Recipes on the rail: Apple Pan Dowdy, a tasty Great Northern Railway treat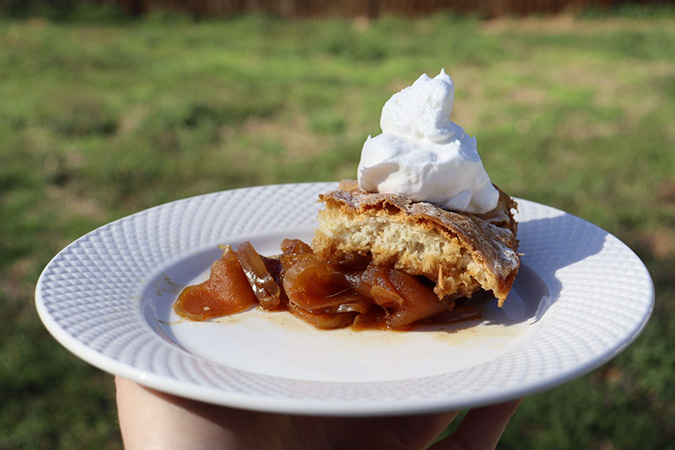 BNSF's predecessors and their passenger rail dining services each had their own set of signature menus and dishes, depending on their geographical routes. Our series Recipes on the Rail takes you back to the glory days of train travel and provides you with delicious recipes for your enjoyment.
Great Northern Railway (GN) passenger trains offered riders luxury dining services with dishes specific to their route. The chefs also paid close attention to the regional fruits and vegetables of the season when planning their menus. Many recipes were developed using the goods GN shipped.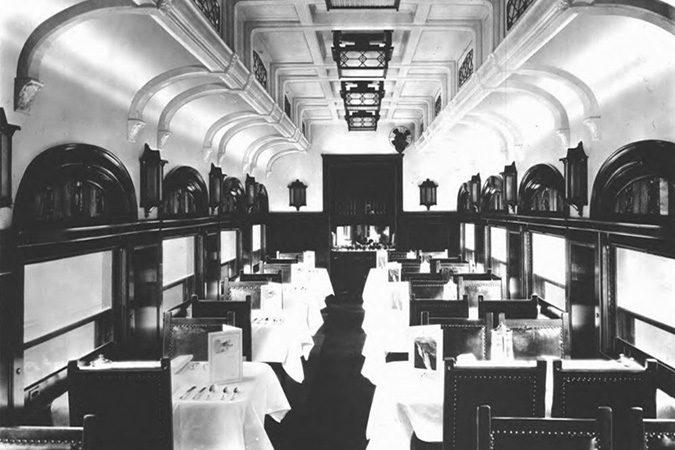 In addition to encouraging riders to try new dishes while they dined on the train, the railroad marketers hoped that when the journey was over, passengers would remember those meals and purchase the ingredients back home.
One staple regularly shipped on GN was apples. By 1938, GN had developed a strong relationship with Wenatchee Valley apple growers in Washington state. The railroad set out to promote the "most flavorful apples" in America by serving them in special dishes on dining cars and promoting them with window displays in ticket offices throughout the country.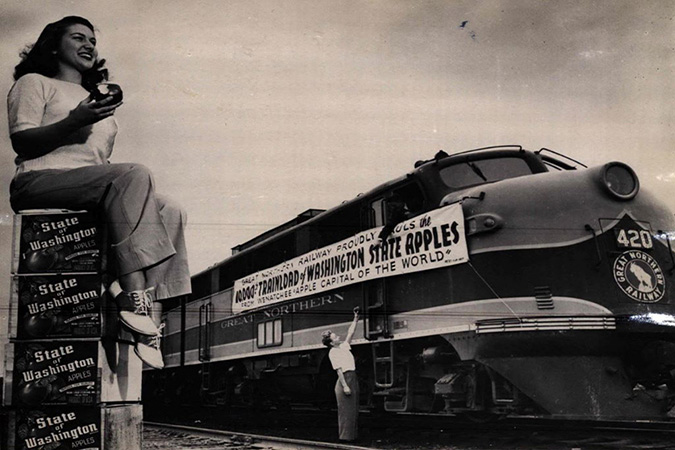 During National Apple Week in 1939, as GN trains made stops in the Wenatchee Valley, apple grower representatives boarded and distributed free apples to passengers. The apples were praised as one of the GN chef's secrets.
In 1947, GN and the Wenatchee Chamber of Commerce celebrated the railroad's 10,000th trainload of apples out of the Wenatchee area.
One of the many apple recipes created was the Apple Pan Dowdy, which this intrepid writer recently ventured to make.
The recipe calls for fairly common ingredients, and has pretty easy-to-follow instructions, though a couple adjustments to the ingredients might be necessary. The recipe calls for Rome Beauty apples, which none of the stores in my area carried, but I found that Honeycrisp apples are similar. Also, whipped topping works fine as an alternative to heavy whipping cream.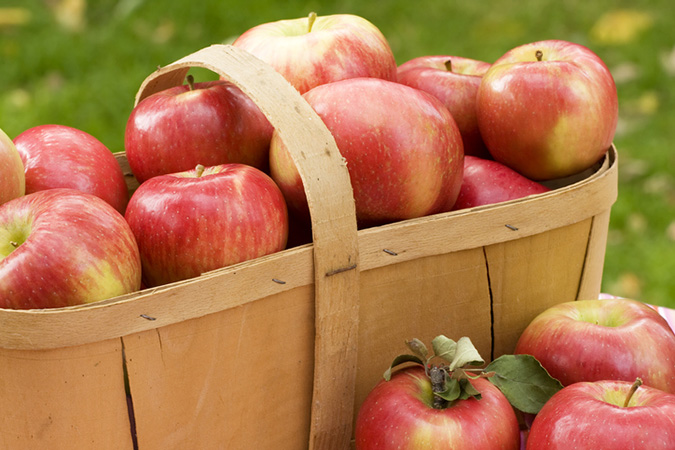 While the oven preheats to 400 degrees, slice the apples. Four to six apples should be enough, depending on their size. The recipe didn't specify how thick or thin to slice the apples so I made them fairly thin, about a quarter-inch thick, hoping they would cook all the way through.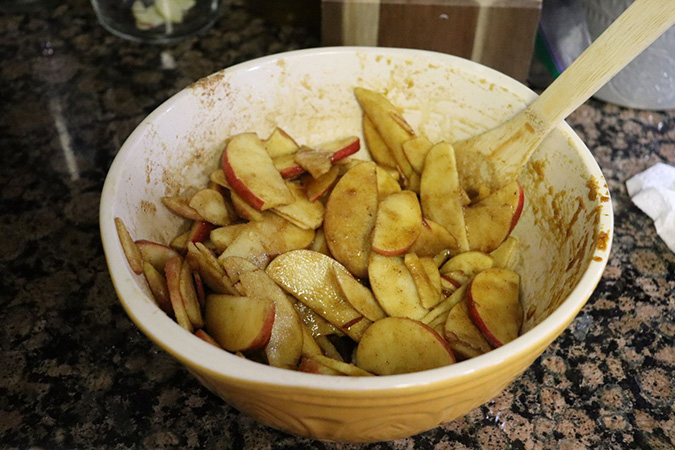 Once I had sliced the apples, I combined them with the sugar, molasses and spices. They smelled amazing already! The recipe called for a medium mixing bowl, but I recommend using a large one if you try the recipe.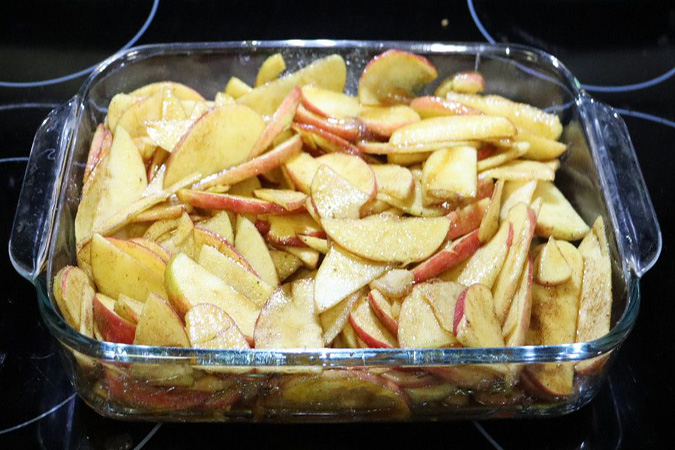 After mixing all the apples together, I put them in the pan, covered it with foil and baked them for 15 minutes like the recipe said. When I pulled them out, they weren't cooked all the way through, so you may have to bake them longer. I ended up baking them for another 10 minutes.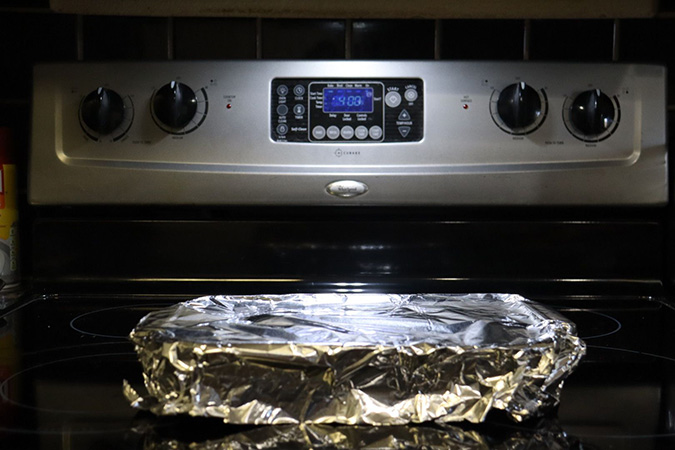 As the apples are baking, mix the baking mix with milk, creating a dough. If the dough is too sticky, add enough flour to be able to roll it out correctly. Once the dough is rolled out and the apples are done baking, add dough in sections to the top of the apples, with overlapping layers if needed to hold it together.
Bake for 15 to 20 minutes until browned. Let it cool, then top with whipped topping. Time to try it!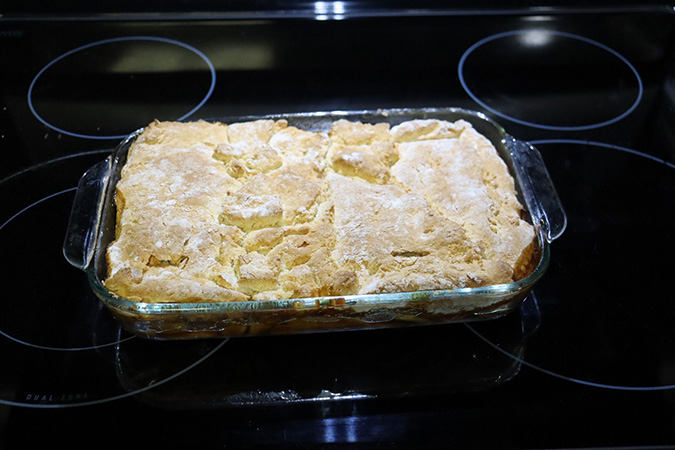 The result was delightful without being extremely sweet. I wouldn't have minded it being a little sweeter, so if that's your preference you might want to increase the amount of sugar. What I like about this recipe is how versatile it could be. You can throw in other seasonal fruits like berries if you have them on hand.
It was an honor to bake and try a Great Northern Railway recipe. It was a chance to experience in a small way what it was like to be a passenger on a Great Northern train in the early 20th century. While the recipe was a treat in my kitchen in 2023, I'm sure it was especially wonderful on a Great Northern train rolling through the hills of Wenatchee Valley during National Apple Week!
If you decide to try the Apple Pan Dowdy recipe, please share your results with us @bnsfrailway on Instagram.

Apple Pan Dowdy
Before you begin, you'll need a large mixing bowl and a 9"x13" baking pan. Preheat the oven to 400 degrees.
8 cups Rome Beauty apples, cored and sliced about a quarter inch
1 cup of sugar (add ¼ cup for extra sweetness if desired)
2 ½ tablespoon molasses
1 teaspoon ground cinnamon
1 teaspoon nutmeg
2 cups Bisquick or other baking mix
½ cup milk
1 pint whipping cream or a pre-whipped cream of your choice
In a large bowl, gently combine apple slices, sugar and molasses. If you have a sweet tooth, consider adding an extra ¼ cup of sugar to your apple mixture. Add spices and mix it all together well. Place mixture in a baking pan and pat flat. Cover with foil and bake for 25 minutes or until apples are tender. Meanwhile, combine baking mix and milk to form a dough. Roll dough to the right size to cover the apples. Seal the edges and make slits in the top for steam to escape. Return to oven for about 20 minutes until the crust is golden brown. To serve, cut into squares and add a dollop of whipped cream.