Taking riders off the road and onto rail: BNSF operates trains for passenger rail services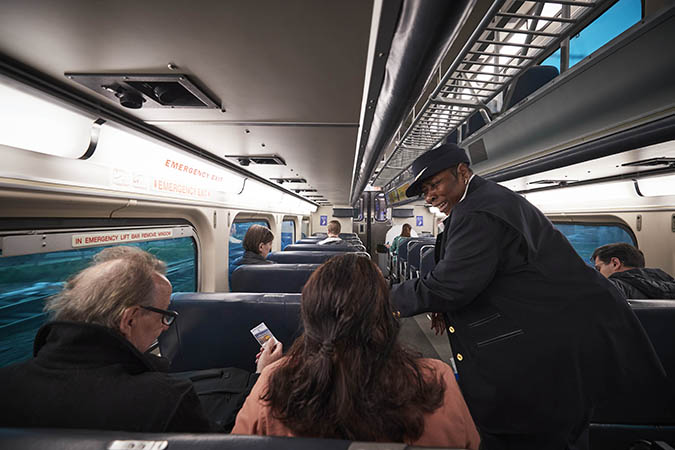 He was called Danny Boy, though he was well into his later years. A regular on BNSF's Metra commuter line in Chicago, the senior citizen toted around a shopping bag full of newspaper clippings about his life.
"At one time he'd owned gas stations and restaurants, but when I knew him, he had dementia and trouble remembering his stop," conductor Beverly Thompson-Visor recalled of the elderly rider. "I would talk to him, find out where he wanted to go that day, make sure he had his bag, then stand with him in the vestibule in plenty of time to get safely off the train."
Acts of kindness like this are why Thompson-Visor is one of our commuter rail transit ambassadors, providing customer service training that teaches employees how to be professional, approachable and empathetic under often stressful conditions. She is one of more than 100 employees in BNSF's suburban train service, which takes riders in four metropolitan areas from the suburbs and back during rush hour, mainly during the work week.
"Like our freight trains that get goods from where they are to where they need to be, we see rail as a solution for also getting people where they need to go," Jim Tylick, assistant vice president, Passenger Operations, said. "Plus, rail is an attractive green solution for both freight and passengers. The best days are ahead of us for the rail industry."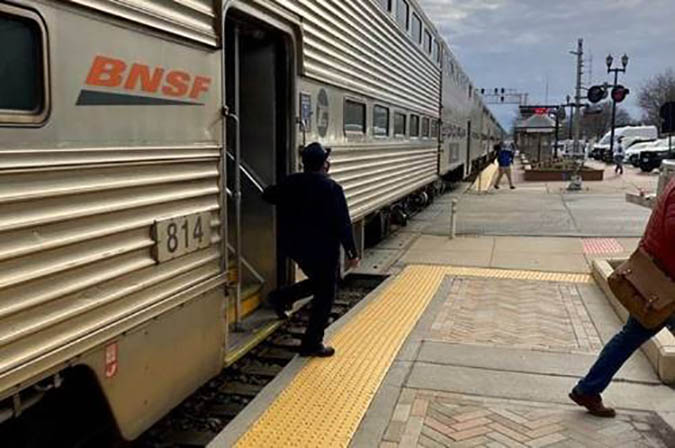 In addition to commuter rail, BNSF also values the responsibility of hosting Amtrak intercity passenger rail. In 2021, Amtrak had approximately 5 million train miles on BNSF's network. Assistant Director Passenger Operations Cindy Stone leads a dedicated team at our Network Operation Center that has 24/7 oversight of Amtrak while on BNSF-hosted rails. "Building strong relationships, collaboration, communication and schedule coordination are key ingredients to the recipe for having successful shared freight and passenger corridor operations," Stone said.
Commuter railroads also operate on BNSF lines, when they can be constructively shared and won't negatively affect BNSF's freight service. Commuter agencies participate in cost-sharing for access to BNSF rail lines.
"With an on-time goal of 95% or better, our commitment to commuter rail is considerable," Tylick said. "It's one that has to be carefully balanced with BNSF's Commuter Rail Principles. Before any project is considered, a lot of study must be done, including considering future freight and passenger traffic growth."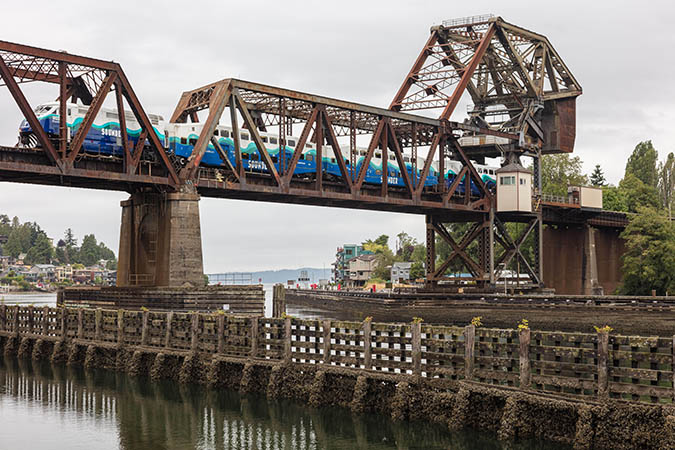 Currently BNSF operates commuter rail in these four areas across the network:
Metra: Portions of Chicago's Metra, with 91 weekday and several weekend trains running to and from far western suburbs into Union Station


Sounder: Between Everett, Washington, and Seattle and between Seattle and Tacoma, Washington, with 30 weekday trains


Northstar: Operating between Big Lake, Minnesota, and Minneapolis, with four trains Monday-Friday


Metrolink: Currently 41 commuter trains from the Riverside and San Bernardino, California, suburbs to downtown Los Angeles, with BNSF dispatching and Metrolink crewing
Riders mainly choose commuter rail because of convenience and economics, depending on the price of gasoline and parking, according to Tylick. Some choose it as a sustainable transportation option, others for safety. "Passenger rail travel can be beneficial to driving, both for traditional weekday commuting to work and during weekends for special events or other activities," he said.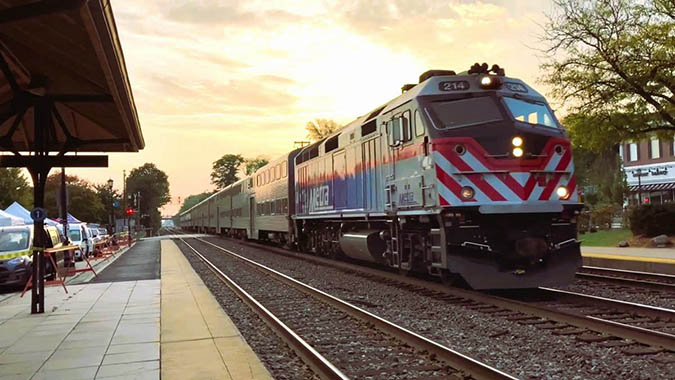 Best foot forward
While BNSF is proud of the historical on-time performance of commuter rail, service interruptions can happen from time to time. And because five minutes past the schedule is considered late, conductors like Sounder's Chris Hopson know how to calm upset riders.
"You get a lot of different people riding, and while I may be the only conductor on a train full of people, I want to be customer-centric for each of them. We're held to high standards, because moving people is a big deal," he said. "You have to care about what you're doing and put your best foot forward."
Rising at 2 a.m., Hopson puts on his best conductor face when he greets riders at 4:30 a.m. "It can be hard, but I may be the first person they see so I want to be professional and show them that I care," he said, noting that being a good communicator makes the job easier.
"A conductor has to be a good listener, and you also have to be a leader. When something goes wrong – like a train delay – people look to you for guidance," Hopson said. "I try to make sure the passengers understand what's happening and constantly update them."
His three morning trips complete, Hopson's train is parked. He'll get a respite period and either work out or rest in the early afternoon, then return to duty around 3 p.m. to make one last trip, ending his day around 6 p.m.
Always the cheerleader
Sandra Lemke started on freight trains in 1979, first as a brakeman/conductor, and was promoted to locomotive engineer a year later. She's been behind the throttle of Northstar locomotives for nearly four years.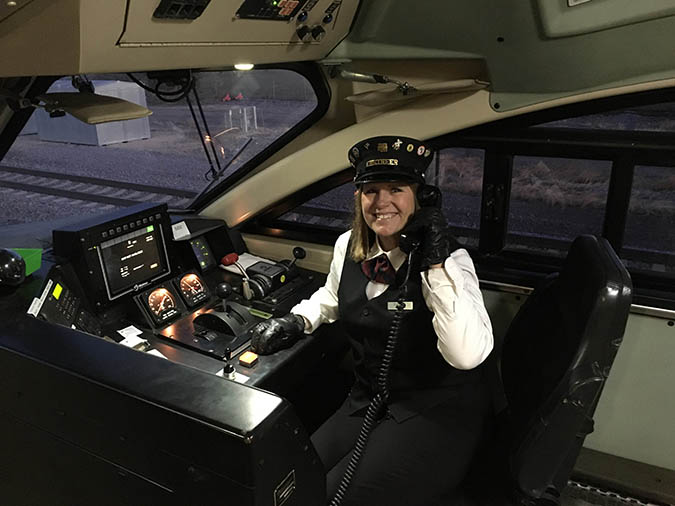 Working in a male-dominated industry wasn't easy. "It was exciting and nontraditional, and I was determined to pull my weight and do my job. I take a lot of pride in it," said Lemke, a self-described cheerleader for her role and the industry.
Knowing retirement was on the horizon, Lemke wanted to work passenger trains. That meant a split shift for her as well, starting bright and early by holding the station doors for riders. "I like to tell them good morning as they come in, and they're appreciative. In some ways my passengers are like family."
And conductor Paul Lemke, her coworker, IS family. He joined his wife on the railroad a couple years after she started, then also moved to the passenger side. "We do everything together," Sandra said. "Now we know what each other's experience and day at work are like."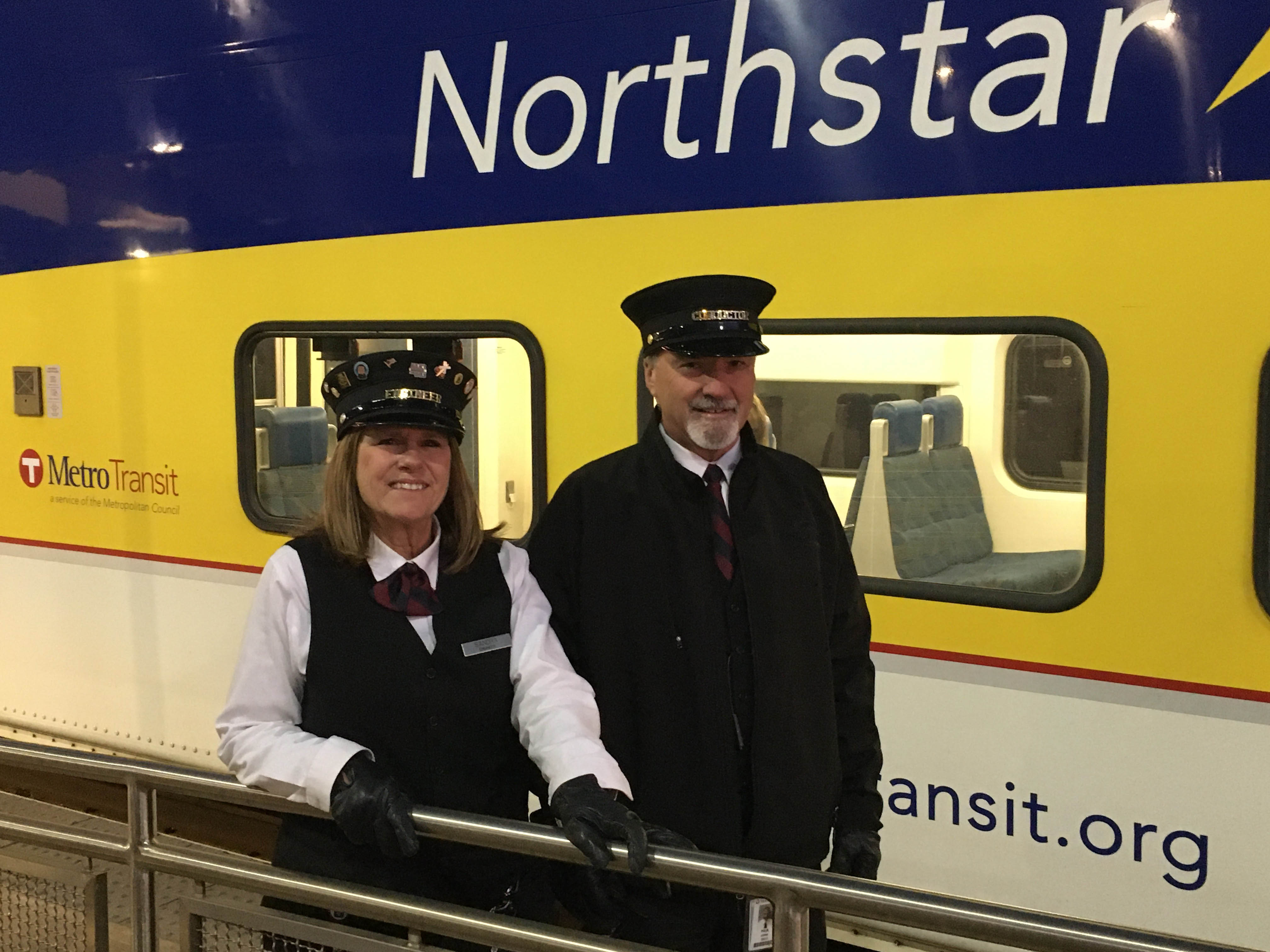 Both take safety very seriously, especially when people are the cargo. a "It's a huge responsibility," she said. "You have to be alert and at your best because we want to deliver everyone safe and sound."
The daily parades
Thompson-Visor started in 1995, first as a switchman in our Cicero Yard in Chicago, where she'd watch Metra trains zip past. "I said, 'I want to work on those.'" So, she did, starting in 2001, working from 5 p.m. to 2 a.m., switching to morning and afternoon shifts in 2012.
Metra's morning "parade" – a procession of one commuter train after another – is a solid three hours, with a command performance in reverse at day's end. It's a lot of action on a line less than 40 miles long.
Besides making announcements about upcoming stops and arrival times, Thompson-Visor is happy to answer questions about her town. "A lot of tourists ride the trains," she said. "They want to know what to do – and the best place for pizza."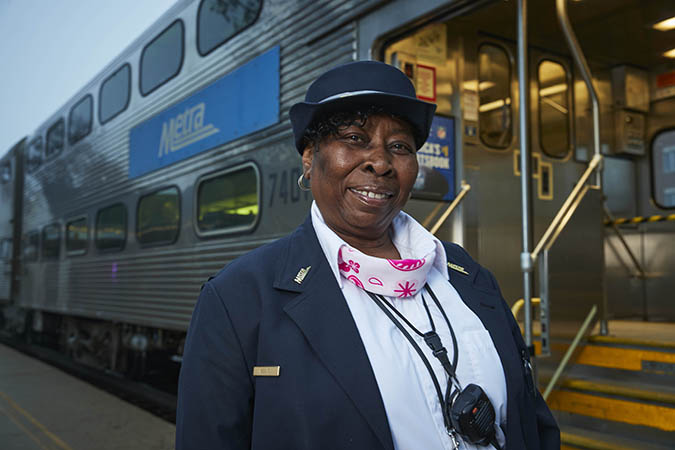 Thanks to her ability to explain well, as a transit ambassador she teaches others about customer service and what to do for special needs passengers, like seniors, parents with children, or those with a disability. Like all the commuter conductors, she's well versed in emergency response, and knows first aid and how to use the on-board defibrillator.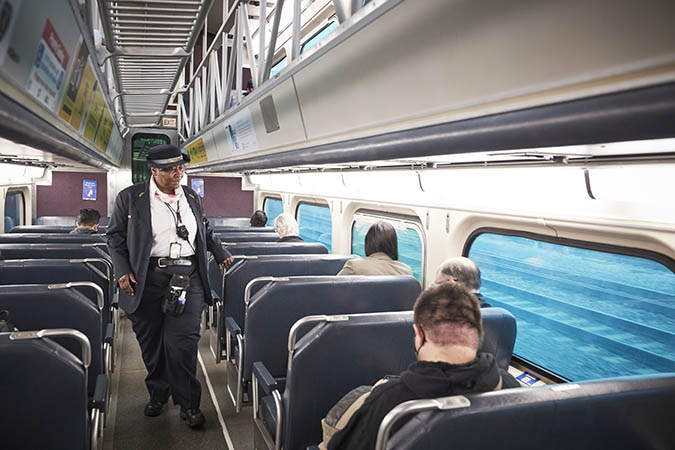 She also participates in Operation Lifesaver rail safety training. "Any time I can get a safety message across – whether to a one-year-old child or a 90-year-old man – that's the rider I want to talk to," she said.
"I'm a reflection of this company, so I want to do my job with kindness. And I'll always wait for the straggler to get on or off the train," she added, recalling with fondness the now long-gone Danny Boy.
Did You Know?
Chicago has always been the railroad center of the nation, and it's had commuter trains almost as long as it's had any trains. BNSF has a long and rich history of commuter service in Chicagoland that began over 150 years ago.
It would not be an exaggeration to say that the western suburbs of Chicago, served by the BNSF line, grew up with the railroad and that the railroad grew up with the suburbs. Today, BNSF still operates commuter trains on the line under a Purchase of Service Agreement with Metra.
"BNSF is an integral component of Metra's overall operation and the densest of Metra's 11 rail lines in terms of daily passenger counts. We enjoy a great partnership and appreciate the longstanding relationship that Metra has with BNSF," said Metra Chief Operating Officer Kevin McCann. "We look forward to taking on the challenges of tomorrow and continuing together to provide quality passenger service for Chicago and its surrounding communities."