Totally intermodal: The big facilities that get freight where it needs to go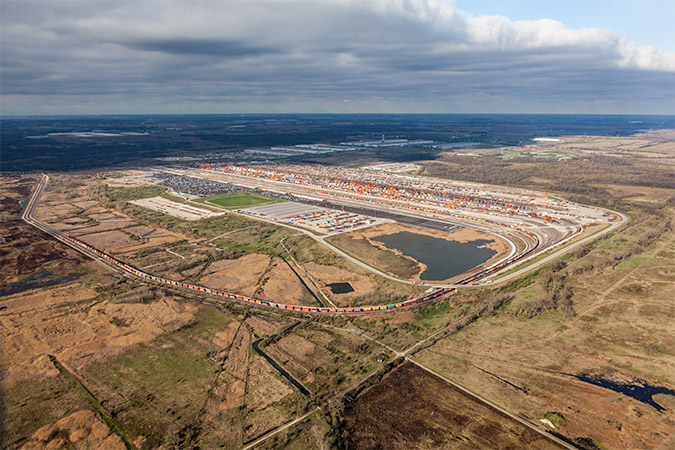 BNSF's rail facilities are used to transfer the necessary goods that fuel our economy – from the grain used to make bread, to the toaster that warms the final piece of your breakfast. Our series, the Fundamentals of Facilities, will highlight some of our key facilities in that process and how they work in transferring different commodities to other modes of transportation, ensuring the delivery of goods to their final destination.
BNSF has long been a leader in intermodal service, and our extensive rail network connects with major ocean ports and inland hubs to distribute goods to large population centers across North America. Our intermodal facilities play a vital role in connecting the different modes of transportation to ensure timely delivery of goods to their final destination, but they vary in equipment, complexity and size based on their location around our network.
Our Southern Transcon line, running between Los Angeles and Chicago, is the fastest intermodal route between Southern California and the Midwest, supporting our customers' needs to move high volumes safely and reliably. Our Northern Transcon route offers customers the ability to extend their reach between Seattle and Chicago, with other service options connecting the Pacific Northwest (PNW) to Texas or Northwest Ohio and their surrounding markets.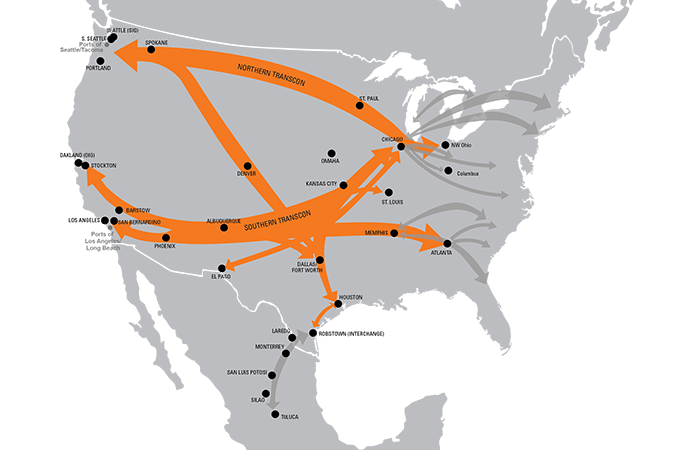 Because one size does not fit all, we offer a variety of intermodal service options to meet our customers' needs.
"For time-sensitive freight, such as parcel, less-than-truckload, temperature-controlled and direct-to-store shipments, we offer the fastest expedited service in the industry," said Tom Williams, group vice president, Consumer Products. "Our standard service maximizes value while reaching key markets. For import containers shipped intact to inland markets, we provide an international service option that connects the most direct ocean vessel services between Asian and North American markets.
"Leveraging these networks create opportunities for shippers to realize economic efficiencies while reducing carbon in their supply chains."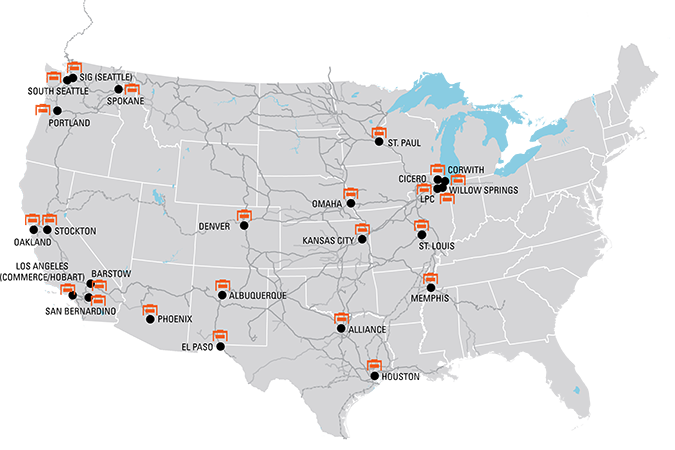 While the rail system is how we move the freight across the country, our facilities are the portals at which we interact directly with our customers and shipping partners. Our hub network is the largest of its kind and provides direct access to thousands of major distribution centers and warehouses across the U.S. Our continued investments in advanced technologies, like our RailPASS mobile app, help accelerate the in-gating and out-gating for truck drivers, ultimately making it faster and easier to move shipments to and from our property.
"We work closely with our customers and the communities that we serve to establish transportation and distribution solutions that enhance and improve supply chains for all involved," said Colby Tanner, assistant vice president, Economic Development and Real Estate.
Our Logistics Parks and facilities are designed to be efficient gateways where we interact with shipping partners to distribute goods to their final destinations."
Whether our hubs connect with West Coast ports or act as inland centers that facilitate truck shipments for the last-mile delivery to final destination, they play a key role in how BNSF helps drive the economy.
Below are a few detailed examples of what some of our key facilities entail:
Intermodal Facility Los Angeles - Hobart/Commerce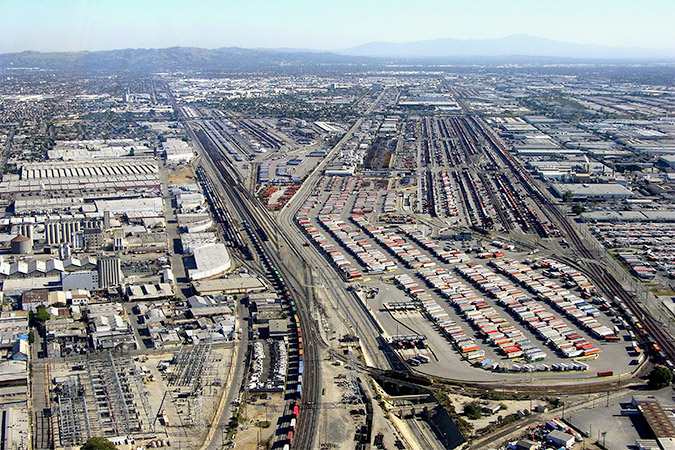 Located near downtown Los Angeles, BNSF's Hobart and Commerce facilities together handle the world's largest amount of domestic intermodal freight. In addition to significant acreage of parking, Hobart also includes a large "ground-stacking" operation that allows container volume inside the facility to expand vertically. The site totals 243 acres and contains 52,000 feet of production track used to build and offload trains, 30 cranes, 2,200 wheeled parking stalls and 1,475 on-site stacking spaces.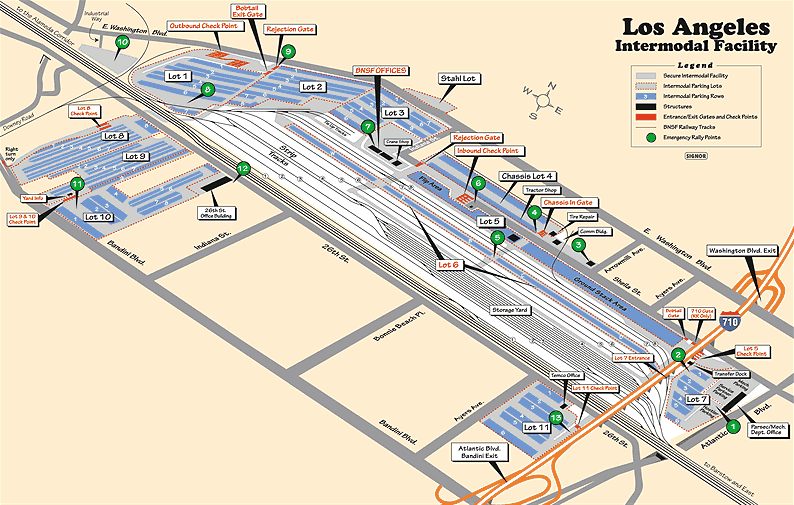 Here is a drone video depicting an aerial perspective of the facility.
Intermodal Facility Memphis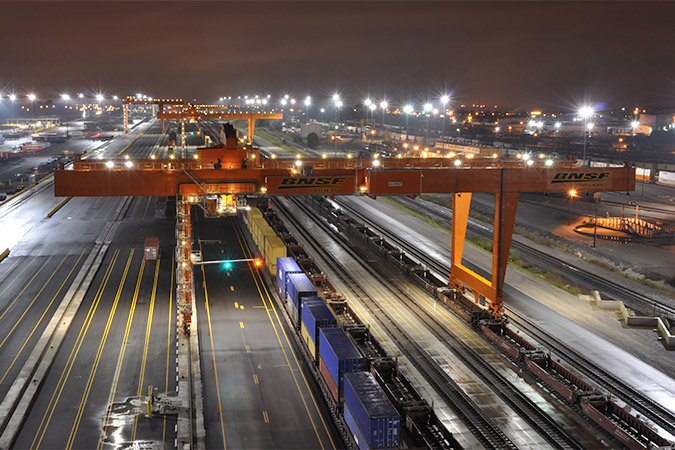 Situated adjacent to our sprawling direct-rail hub, the Memphis Intermodal Facility provides leading-edge transportation solutions in one of the country's premier industrial business centers. The site totals 180 acres and has 44,700 feet of production track, 2,900 wheeled parking stalls and 5,000 on-site stacking spaces. The facility also has five wide-span electric cranes with a customized operating system that maximizes efficiency and works in conjunction with stacking cranes.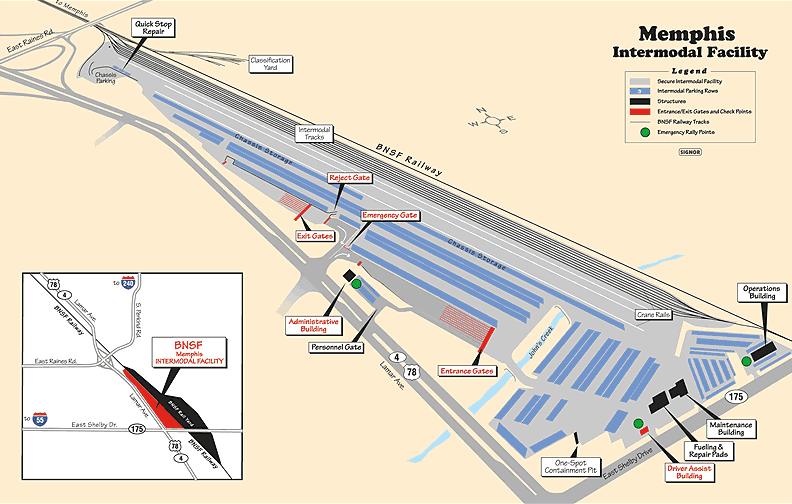 Logistics Park Chicago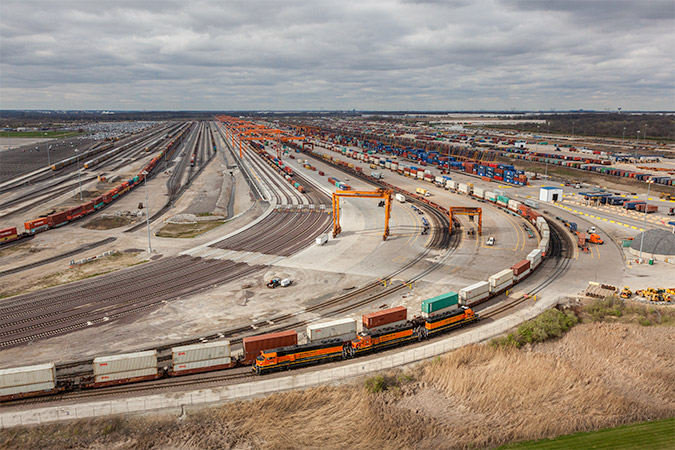 Part of BNSF's Logistics Park strategy, the Chicago intermodal hub is the nation's largest inland port offering co-location opportunities for customers' distribution centers. This concept enables us to partner with trucking companies and ocean carriers to provide streamlined supply chain solutions that connect manufacturers and retailers to markets across the U.S. The site totals 638 acres and is made up of 79,000 feet of production track, 39 overhead cranes, 6,000 wheeled parking stalls and 9,000 on-site stacking spaces.