Recipes on the Rail: This wintry treat won't leave you out in the cold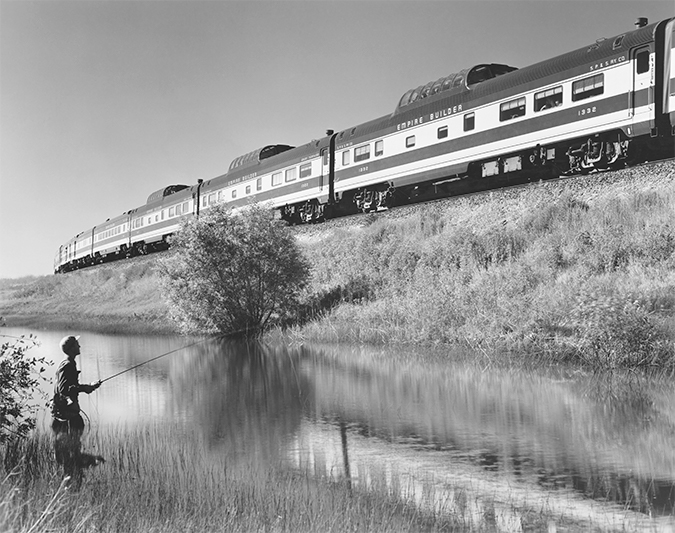 BNSF's predecessors and their passenger rail dining services each had their own set of signature menus and dishes, depending on their geographical routes. Our series Recipes on the Rail takes you back to the glory days of train travel and provides you with delicious recipes for your enjoyment.
Most people who know American railroad history will immediately recognize the name James J. Hill. One of the most legendary entrepreneurs of the 19th century, Hill led the Great Northern Railway (GN).
Hill, known as "The Empire Builder," had a vision for a transcontinental rail line connecting the Midwest at St. Paul, Minnesota, to Seattle in the Pacific Northwest and points between. But fewer may know that the success of that rail line was due in part to his son's influence in creating one of the country's most visited national parks.
Born in Canada, Hill arrived in St. Paul in 1856 with dreams to become a fur trapper and trader. Instead, he found himself working for a steamboat company. His experience handling shipments and bookkeeping in the early days of his career proved to be instrumental in his future endeavors.
In 1878, Hill and a few other investors purchased the failing St. Paul and Pacific Railroad. Hill worked tirelessly to expand the railroad westward to the Pacific, building in phases to keep costs low. The railroad was renamed Great Northern in 1889 after consolidating with the Minneapolis and St. Cloud.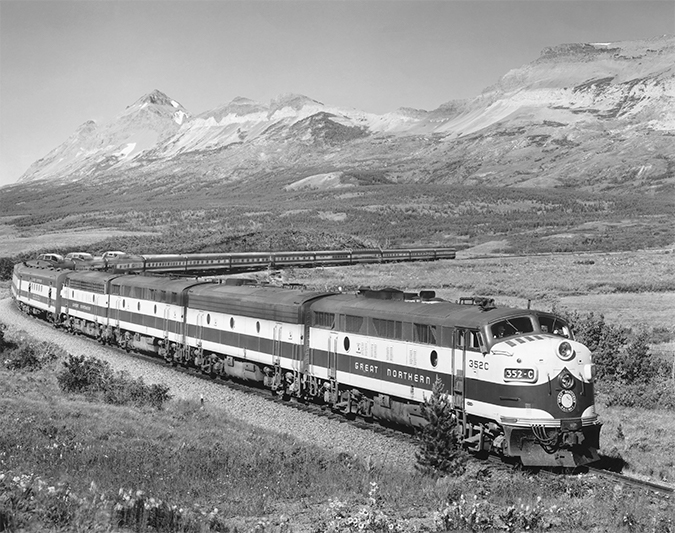 Continuing west was no easy feat. The railroad had to traverse the Rocky and Cascade mountain ranges. Although engineers found navigable passage through the Rockies, the Cascades would prove more challenging. John F. Stevens, the chief engineer, found a safe passage through the range that allowed GN to reach the West Coast at Puget Sound in 1893.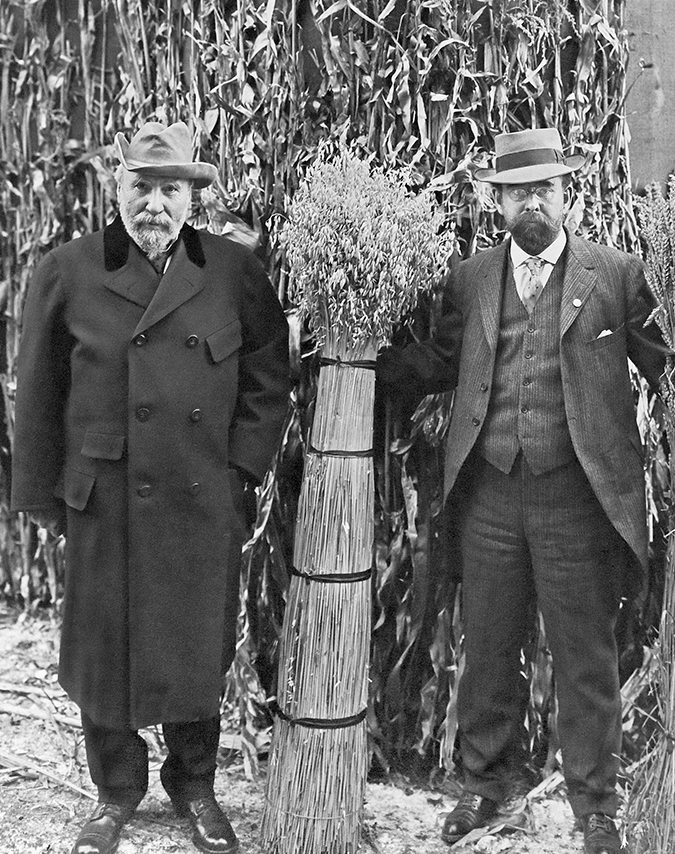 But Hill knew that there was no use in creating a transcontinental rail line if travelers weren't enticed to go west. In addition to providing plots of land to settlers to populate areas his railroad served, Hill and his son Louis sought to attract well-to-do vacationers accustomed to yearly trips to Europe to visit destinations in their own backyard.
Upon becoming president of the GN in 1907, Louis Hill (pictured here, right, with his father) was instrumental in convincing the Department of the Interior (the predecessor to the National Parks Service) to designate the area where the Rocky Mountains meet the Canadian border a national park. Glacier National Park was created, and Louis quickly worked to provide luxurious accommodations and experiences for the park's guests.
The younger Hill drew inspiration for his lodges not only from the classic chalets of Switzerland and other romantic European destinations, but also from the railroad's competitors. While the Northern Pacific (NP) served Yellowstone and the Atchison, Topeka and Santa Fe (ATSF) promoted "exotic" Grand Canyon landscapes and Harvey Hotels, Louis took a different approach. He proclaimed that a visit to Glacier National Park was an essential American experience, coining the phrase "See America First," which was used in GN advertising.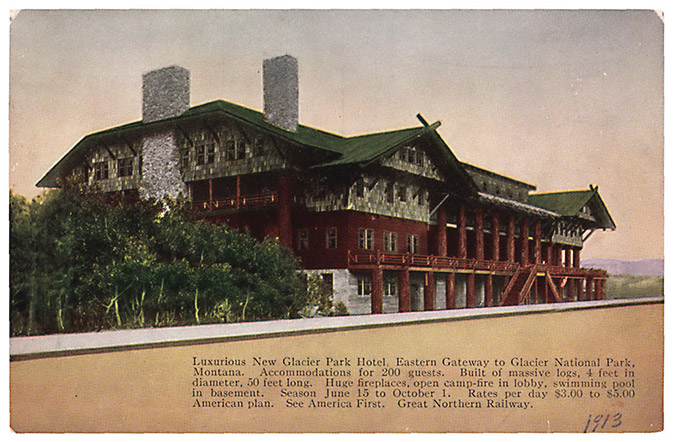 The range of accommodations and activities from hiking to backcountry horseback riding made Glacier National Park a success for the railroad until the 1940s, when automobiles eclipsed rail passenger traffic. With the decline in passengers and profits, GN decided to sell its park hotels. Today, many of the lodges retain their original names, like the Many Glacier Hotel and the Sperry Chalet.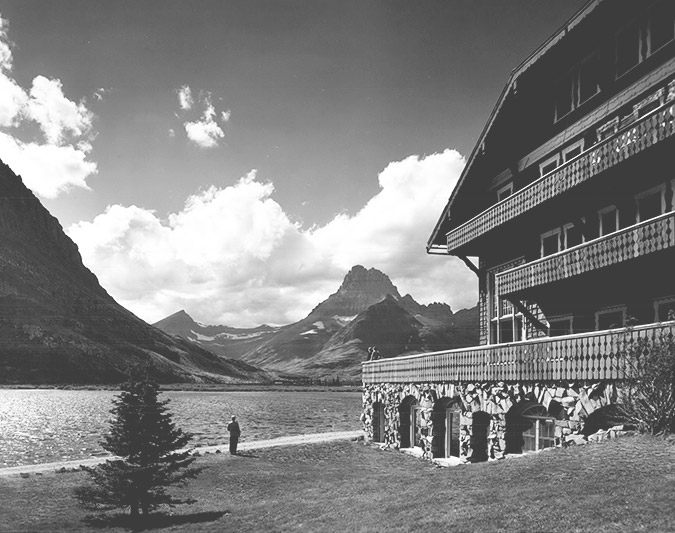 James Hill died in 1916, but his legacy lives on. Today, the Empire Builder train is operated by Amtrak, giving passengers a chance to experience the rugged splendor of the American West – just as he envisioned.
This holiday season, try this festive dessert that was served on the GN's passenger trains as tourists came and went through Glacier National Park.
Gingerbread Crumb Pudding with Butterscotch Sauce
4 eggs
2 cups milk
1 ½ cups sugar
1 tsp ginger
1 cup molasses
½ tsp cinnamon
½ cup butter melted
1 lb loaf of stale white bread, grated
Preheat oven to 350. Butter 9" x 13" baking dish thoroughly and set aside. In a large mixing bowl, beat eggs until light lemon color. Continue beating and gradually add milk, sugar, ginger, molasses, cinnamon and melted butter. Mix well. Add grated bread and stir until well mixed. Pour mixture into buttered baking dish and place dish in oven. Bake one hour, or until knife inserted in the center comes out clean. Spoon pudding into a serving dish and top with butterscotch sauce.
Butterscotch Sauce
4 tbsp. cornstarch
½ cup cold water
1 tbsp. sugar
2 ½ cups water
1 ¾ cup sugar
1 heaping tsp. powdered cocoa
5 drops vanilla extract
4 tbsp. butter
Dissolve cornstarch in cold water and set aside. In saucepan over medium heat, melt 1 tablespoon of sugar until browned to a golden color. Add water and remaining sugar. Bring to a boil and continue to boil for three minutes. Add cocoa, vanilla extract and butter. Stir to mix and simmer to a glaze. Slowly add cornstarch to boiling liquid and simmer until thickened.