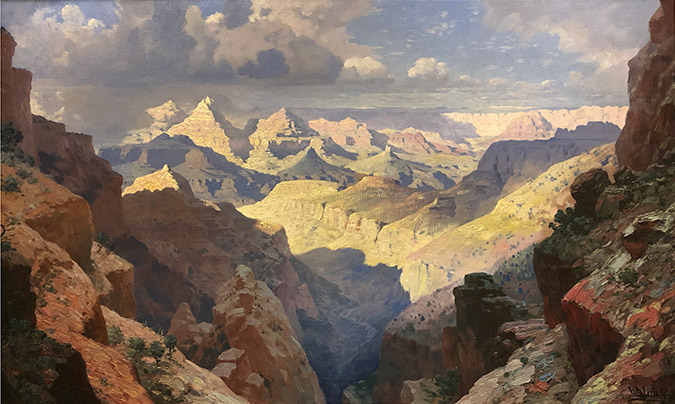 Brush with history: BNSF's art collection tells the story of a railroad and a country
If Instagram, YouTube, travel blogs and digital cameras had existed in the 1800s, one of the nation's most storied corporate art collections would never have come into existence.
In the late 19th and early 20th centuries, railroads powering America's growth needed a way to catch the imagination of the public and entice paying customers to travel out west. And that's how the BNSF Railway art collection was born – by accident.
"It wasn't originally intended to be a corporate art collection," said Bradley Houston of C2 Art Advisors, the firm that manages the collection. "It started out as a way to promote tourism."
Great Northern, Northern Pacific, and Santa Fe, all major predecessor lines of BNSF, engaged dozens of talented commercial painters to travel the West and capture its natural splendor on canvas so people back home could see what awaited them. "The railroads would reproduce the images as colorful lithographic prints to display to the public in depots and ticket offices," Houston said. "This would have been the first time many people east of the Mississippi River would have seen these wonders of the new America."
Because it had a business objective from the start, and was created in the middle of a pivotal time in the growth of the United States, the collection is "a fascinating intersection between history, commerce and art," Houston said.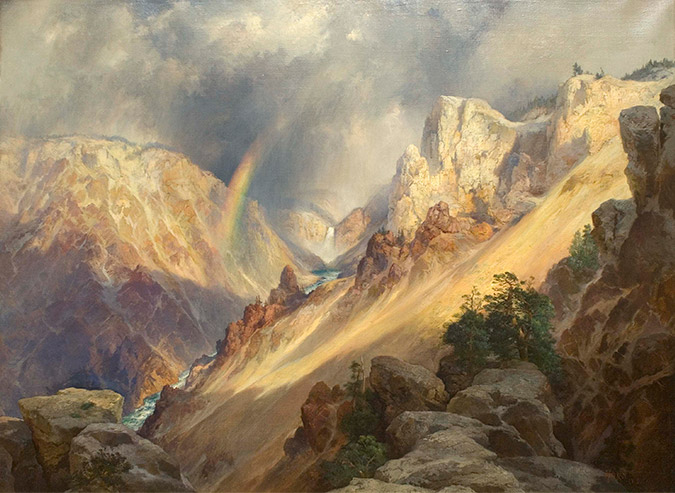 Today, BNSF office employees in Fort Worth and other locations work in buildings graced by paintings that vividly depict how railroads encouraged westward development. A walk through the headquarters campus takes employees and visitors on a journey into canyons, deserts, pueblos, forests and mountain ranges.
"The landscapes are truly breathtaking and remind us that the land survives us all and we need to be good stewards of our environment," said Karen Burchfield, who is an admirer of the collection and assistant vice president for Coal Marketing at BNSF. "In some of the art, I see scenes that are familiar to me from the Pacific Northwest, Glacier National Park, and the Southwest. It strikes me how fortunate I am to work for BNSF, and that many of these beautiful places were introduced to me while I was I doing my job."
Santa Fe's commissioned works focused on the Southwest, including Native American scenes, desert landscapes and the Grand Canyon. The railroad hired several top-tier painters who formed the Taos Society of Artists. Northern Pacific hired Thomas Moran to paint scenes from the Yellowstone Territory, and his Grand Canyon of the Yellowstone is considered by some to be the most important work in the collection. Great Northern hired the prolific Austrian-born artist John Fery to paint scenes from the Glacier National Park region, and BNSF's collection now contains the largest concentration of his works in the world.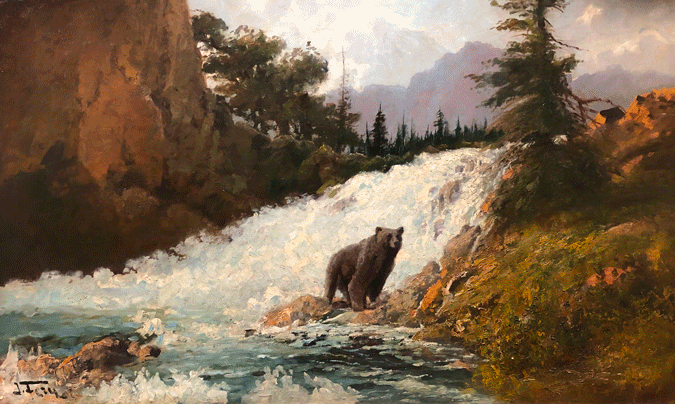 The collection has around 700 paintings, but reaches around 1,000 pieces when including photographs, prints, sculptures and antique clocks. There is an active loan program with museums.
Andrew Walker, executive director of the Amon Carter Museum of American Art in Fort Worth, has high praise for the collection. "I think it's one of the great treasures of Fort Worth that many people don't know about. It showcases the railroad as a force of economic power and it displays the majesty of these landscapes. It's unparalleled as a collection that relates to the westward expansion of the United States."
His favorite piece from the collection is Taos Girls by Walter Ufer. "It has mystery to it, a sense of the spirituality and the values of the culture" it depicts. He also admires the work of John Fery. "Fery fascinates me. He's an artist who deserves more study. The works are so monumental. There's an undiscovered country that can be explored by digging deeper into his work."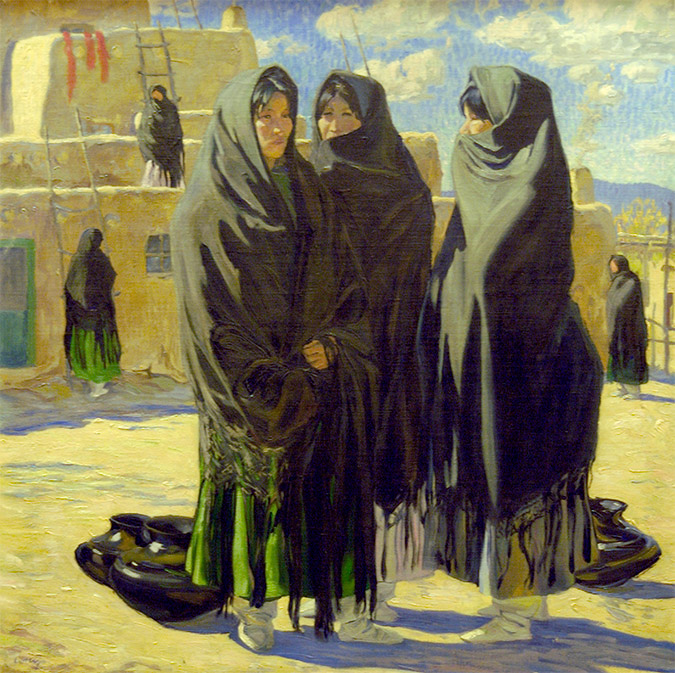 Walker lauds BNSF's contributions to the documentation of American history, including its financial support of the Amon Carter Museum as well as its own preservation of historic materials. "BNSF's commitment to the American story is almost unmatched in the corporate world," he said. "And it's a story every young person should know."
Burchfield adds, "I'm always proud to bring customers to the BNSF campus and give them a tour of the facilities, state of the art technology, and the art. It demonstrates to the marketplace that we value the diversity of our heritage, and we understand the importance of preserving the artistic representations of our history."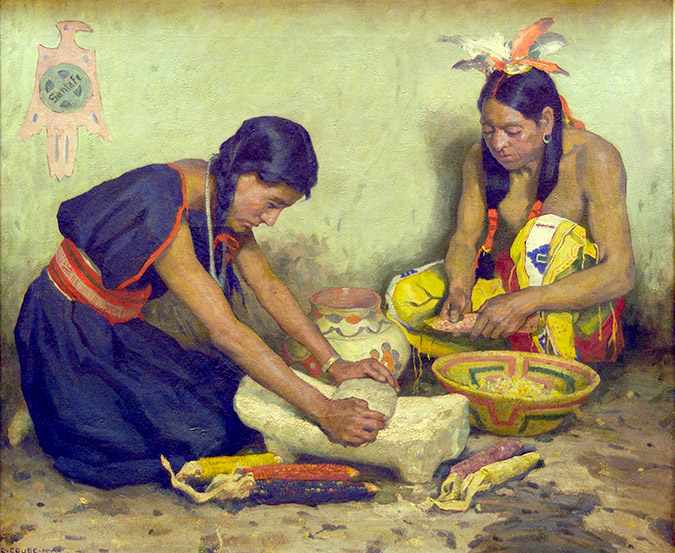 A Sampling of Featured Artists
E.I. Couse (1866-1936)
Born in Saginaw, Mich. One of the best-known members of the Taos Society of Artists. He studied at the Art Institute of Chicago, the National Academy of Design in New York and at the Academy Julien in Paris. He was a prolific interpreter of the Southwest Native American and was a resident of Taos from 1909 until his death 27 years later.
Edith Hamlin (1902-1992)
Born in Oakland, Calif. Noted landscape artist and muralist. After studying at the California School of Fine Arts, she kept a studio in San Diego and later in San Francisco. She visited Taos in 1932, an experience that inspired her Western landscapes, and later lived in Tucson. After her husband's death in 1946, she returned to San Francisco. She traveled widely throughout the Southwest, painting until her death in 1992.
John Fery (1859-1934)
Born in Austria. Fery is known for gigantic, panoramic paintings that attest to his unquenchable enthusiasm for the West. He received a classical education in the art academies of Vienna, Dusseldorf and Munich. Over a period of 20 years, he painted more than 300 scenes of Glacier National Park.
William R. Leigh (1866-1955)
Born in Falling Waters, W. Va. Studied at the Maryland Institute and in Munich. Leigh made his first trip to the West in 1906, exchanging a painting for free transportation with the Santa Fe. He was known for dramatic, colorful canvases of frontier life.
Thomas Moran (1839-1926)
Born in Bolton, England. Largely self-taught, Moran worked for a wood engraver in Philadelphia during his youth and later studied in Europe. His paintings of the Yellowstone territory helped influence Congress to make Yellowstone a national park. He also painted the Grand Canyon and Native American scenes in New Mexico.
Walter Ufer (1876-1936)
Born in Louisville, Kentucky. Ufer was a successful printer and artist who studied in Dresden, Munich and Chicago. In 1913, he painted in France, Italy and North Africa. One year later he moved to Taos and joined the Taos Society of Artists, and was a major driving force behind the success of the group.