8 snow photos that sleigh
Trains are most often thought of for their practical value. They move goods and are the backbone of our economy. However, those with an artistic eye can also capture something more: their beauty. In the winter, the vivid orange of our BNSF locomotives is stunning against the contrast of white, snowy landscapes.
We received a flurry of photos for this year's Winter Photo Contest, and we have picked out our favorites that will make you freeze in wonder. Not only did these photographers capture stunning and creative scenes, but they also followed safety protocols and kept a safe distance from railroad tracks and private property. For those that would like to capture equally stunning shots, don't forget that trespassing on the tracks or right-of-way is illegal and dangerous.
This year's annual contest was hosted on Instagram and our Friends of BNSF Facebook group. We appreciate everyone who submitted an entry, and congratulations to our winners and honorable mentions. Keep scrolling to see this year's top photos!
FIRST PLACE
David Howland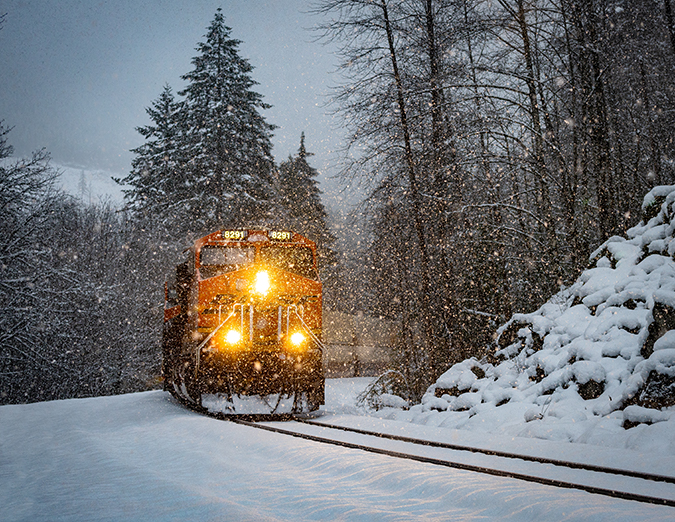 "A westbound BNSF Z-train descends the grade of the west slope of Stevens Pass as the wheel flanges squeal around the sharp bend just east of Skykomish, Washington."
SECOND PLACE
Jeremy Frankovis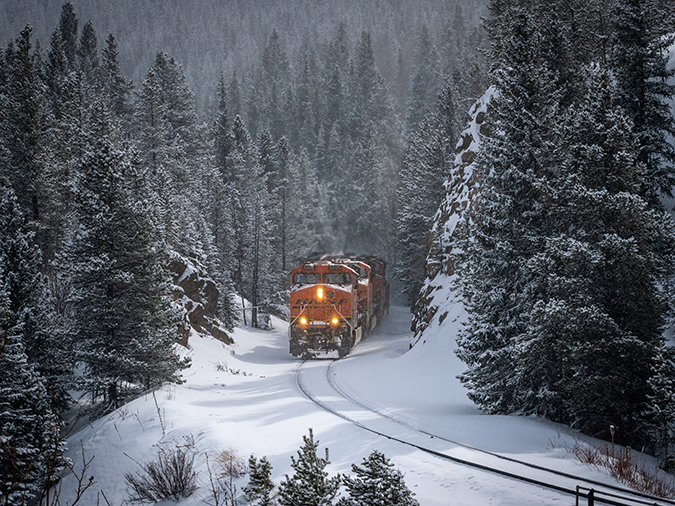 "BNSF 6205 breaks the silence of a Rocky Mountain snowstorm by emerging through evergreen curtains and onto a stage that naturally resembles an amphitheater of steel. The sound of mountain railroading echoes through the halls."
THIRD PLACE
Tyler Eaton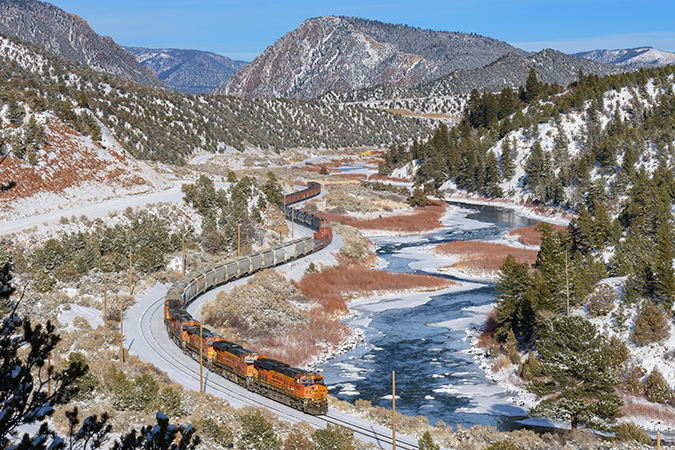 "This is a favorite location of mine and also just about the closest active railroad location to my home. A snowy day cleared up and I was hoping for an afternoon westbound with abundant fresh snow, which can be surprisingly hard to come by at this western Colorado location. The rest is history."
HONORABLE MENTIONS
David Howland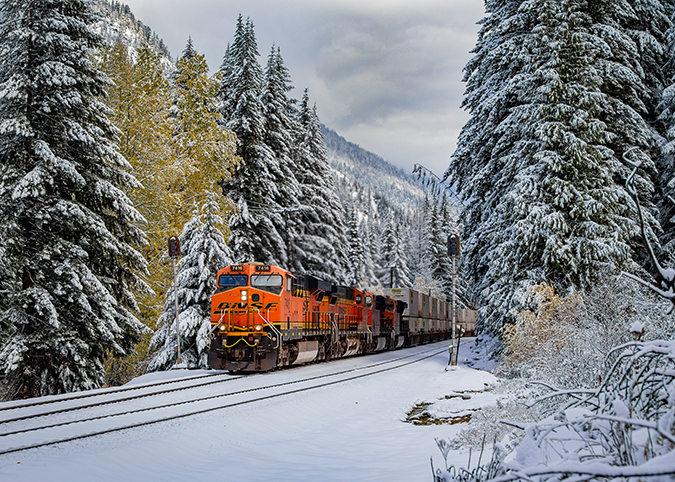 "A westbound BNSF intermodal train could be heard for miles climbing the eastern slopes of Steven Pass before appearing into the frame of this early winter photograph near Berne, Washington."
Simon Thompson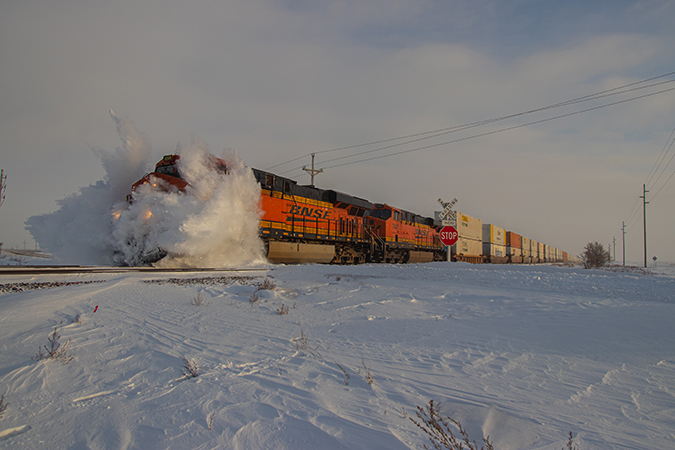 "BNSF's Q-CHCSSE, a container train from Chicago to Seattle, is seen blasting a snow drift west of Perham, Minnesota, on a late December afternoon."
Brooke Carroll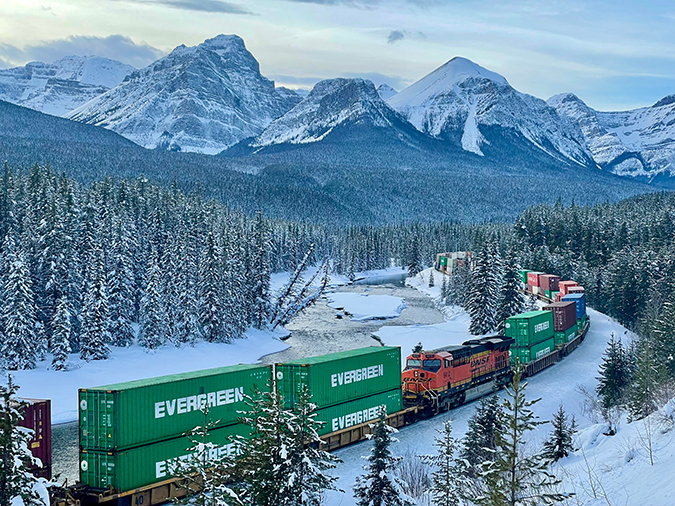 "This was taken in Lake Louise, Banff National Park in Alberta, Canada, at the famed 'Morant's Curve.' I was in the right place at the right time."
Elliott Lang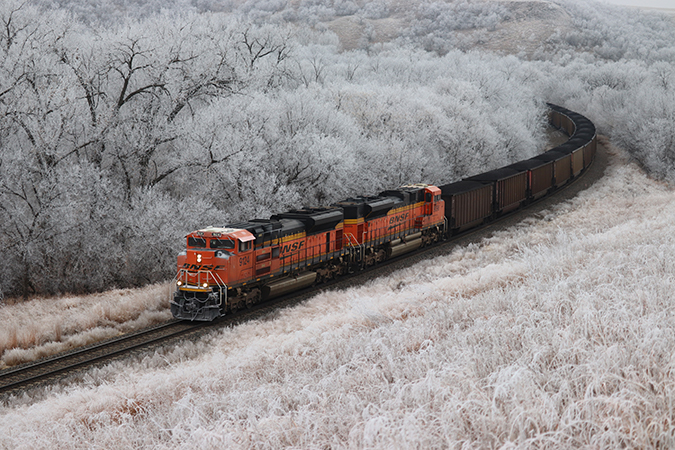 "On a very calm December morning a coal train drifts around a curve near Lyons, North Dakota. This was one of the only trains all day and we weren't going to miss it!"
David Fillman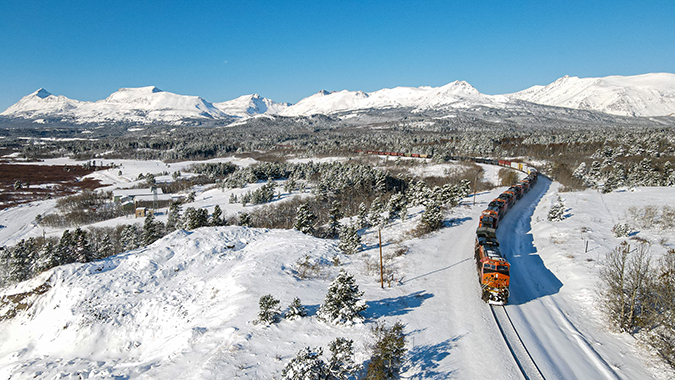 "A couple of friends and I decided to take a trip to western Montana in October 2020 in hopes of catching the Aspen trees in full golden color. However, we were treated to blizzard-like conditions and subzero temperatures in our time there, which made shooting difficult. By using a drone, I was able to capture the freight snaking its way through the park, with the snow-covered trees and rigid peaks of the mountains in the background, showcasing the terrain that the trains have to conquer each trip."