Freeze your feed with these 10 winter trains
From Summit Mountain in Montana's Glacier National Park to Abo Canyon in New Mexico, there's no doubt that BNSF operates across some of the most beautiful landscapes in the United States. This year, we scoured the submissions from our winter photo contest and selected the 10 most scenic and wintry train photos taken by our railfans.
The contest was hosted across our official BNSF Twitter and Instagram accounts as well as our Friends of BNSF Facebook group. Finalists were selected based on the photographer's ability to capture the spirit of BNSF's operations while remaining at a safe distance from active railroad tracks.
As impressive as these photos may be, it is important to remember to keep a safe distance from railroad tracks when taking photographs. Our tracks are private property and trespassing on them or photographing subjects on them is illegal -- as well as extremely dangerous.
First Place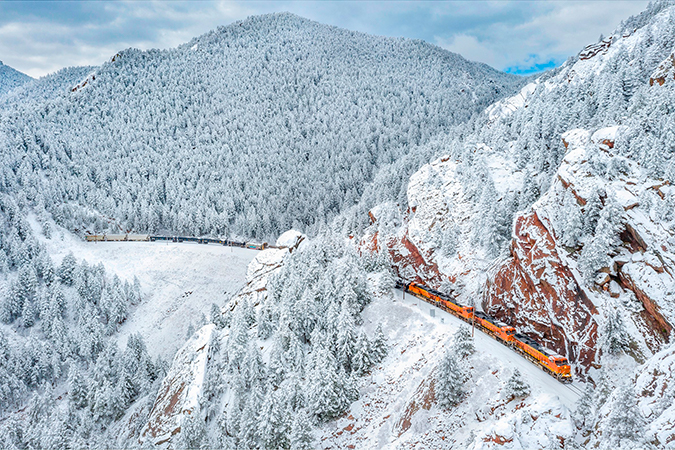 Erik C. Lindgren submitted this photo via Twitter under the username @844useonly.
"Westbound through the Flatirons not around them; BNSF quietly muffled from the fresh 16" of powder rolls through the heart of the Tunnel District. This was a valiant effort shot from the slab above the tunnel. Nearly being completely stuck in slick deep snow-covered back mountain roads to reach the area."
Second Place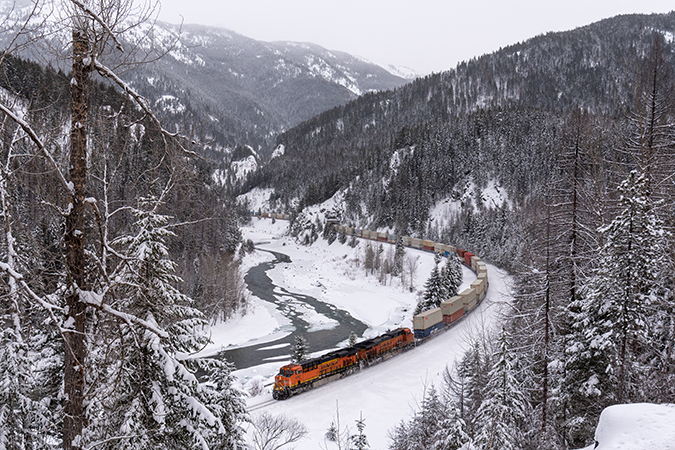 This photo was submitted by Ken Edmier, a member of our Friends of BNSF Facebook group.
"Taken on January 18, this westbound train is traveling alongside the Middle Fork Flathead River on the southern edge of Glacier National Park."
Third Place

This was submitted via Instagram by Jeremy Frankovis under the username @_f_u_z_z.
"Most times when I shoot photos of trains here in the Rocky Mountains of Colorado where conditions can change at the drop of a hat or beanie, there is typically one element of composition that doesn't fall in line with what your eyes want to see. A cloud moves in, your settings aren't right, or maybe the train doesn't even show up! This was certainly not one of those days. A roll of the dice following an early fall snowstorm helped produce not just an image of a train but also that excitement that one gets from simply getting lucky. Lucky to have such a beautiful line through the Continental Divide and lucky to shoot these types of images in the wake of great railroad photographers who have studied these views for over 100 years before me. An honor."
Honorable Mentions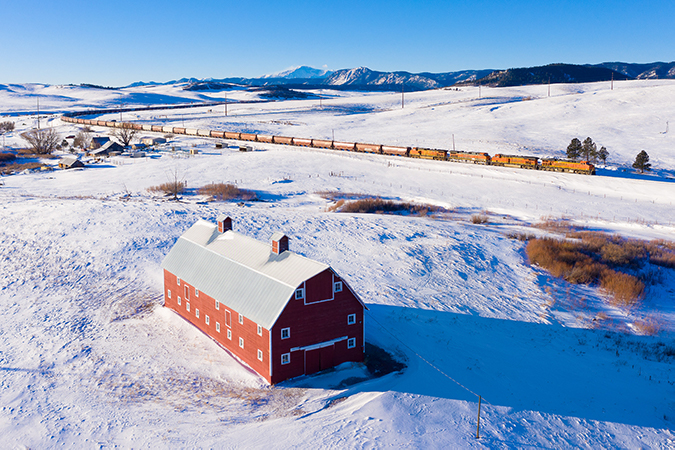 Timothy Tonge submitted this photo via Twitter under the username @SkyviewWx.
"Two distributed power units along with a manned helper set shove a southbound grain train past the historic Allis Ranch barn at Greenland, Colorado, on a cold, 10-degree morning. Jan 25, 2019. Pikes Peak is seen in the distance. Greenland is between Larkspur, Colorado, and Palmer Lake, Colorado."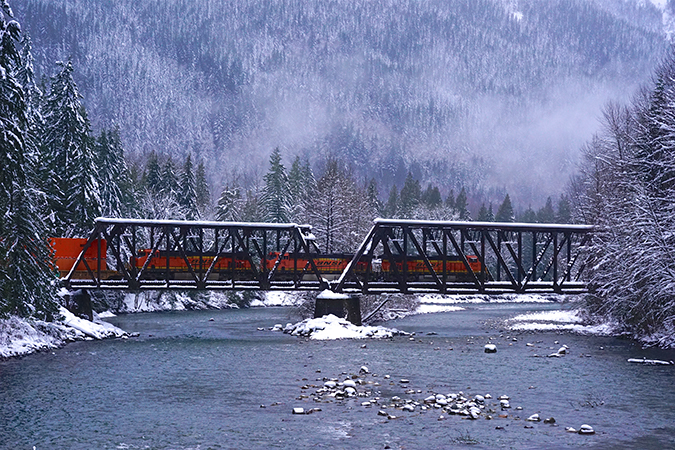 Friends of BNSF member Sean Hanson submitted this photo.
"This photo was taken on January 18. Skykomish suffered from a lot of wet snow earlier this month creating downed trees and power outages. The power had just been restored after being out for nearly a week. So trains had been slow moving on the Scenic Subdivision. I had been following this westbound train for a while. With sunset fast approaching this was my last opportunity to get a good photo of this train. The weather was changing from snow to rain. So here is 7342 crossing the South Fork of the Skykomish River headed west just after departing Skykomish."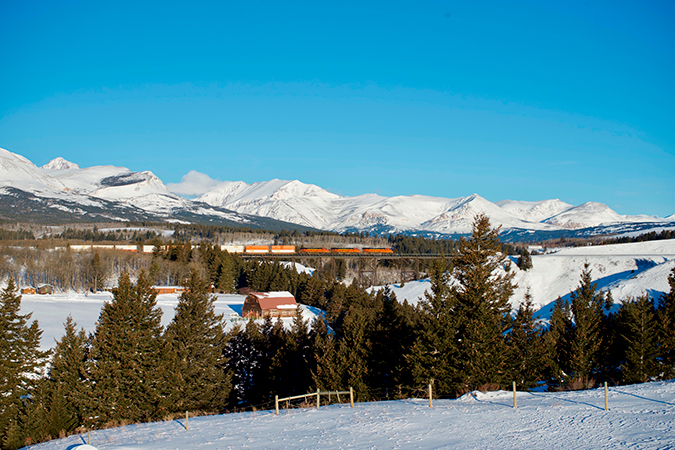 Friends of BNSF member Anthony Fagundes submitted this photo.
"I shot this photo in March 2019. There was a snow storm during the night and I knew that a clear morning sky and a dusting of snow would provide the perfect back drop for shooting a train going across Two Medicine River. I waited about 10 minutes for this eastbound intermodal train to cross the bridge. The orange colors of the BNSF engines are really highlighted against the white snow covered mountains of Glacier National Park."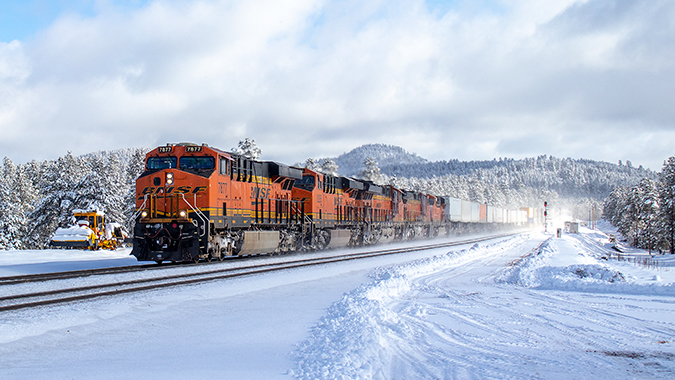 Friends of BNSF member Geoffrey Winship submitted this photo.
"With dynamics roaring as the train shoves from behind, BNSF 7877 finds itself in a snow-covered Arizona as it works its way over the Seligman Subdivision toward warmer weather in the West."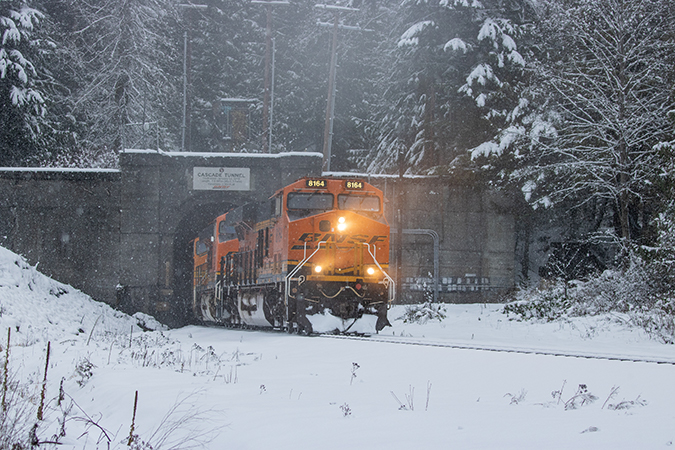 David K. Howland submitted this via Instagram under the username @bnsf_everett_sub.
"While traveling over Stevens Pass on a cold January day, I decided to stop at the West Portal of the Cascade Tunnel near Scenic, Washington. As luck would have it, there was a green signal indication. After waiting a few minutes, I started to see the lights peer through the increasing snowfall that had developed as the heavy intermodal train descended the steep 1.5% grade. The dynamic brakes were whaling as the train emerged from the 7.8-mile-long tunnel."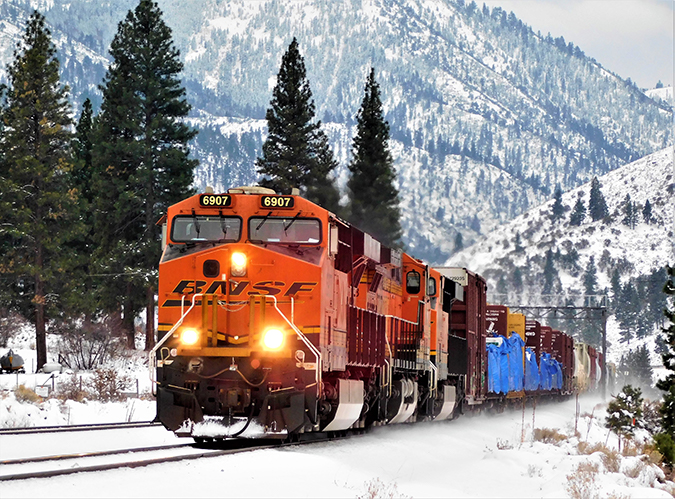 Friends of BNSF member Mark Lovgren submitted this photo.
"Our Northern Nevada area has experienced a mild winter so far, and this was about the only date with enough snow to capture train photos. The BNSF 6907 is leading the QSBPVJ (Manifest, Stockton CA to Provo UT) past an old Southern Pacific Railroad signal bridge at MP 229 on the Roseville Sub in Verdi, Nevada on November 30, 2019."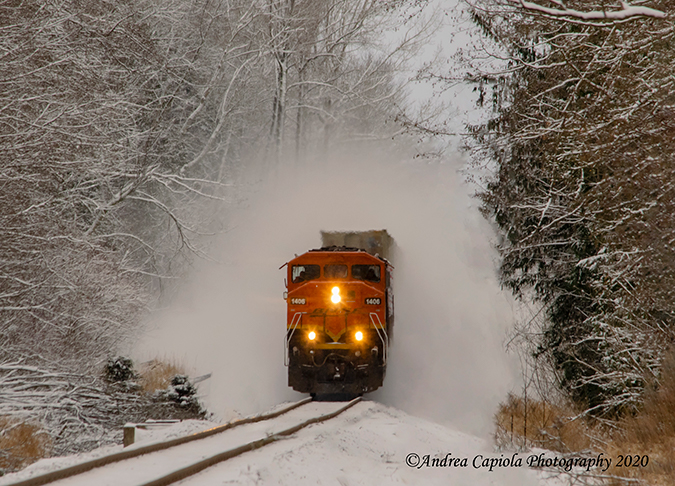 This photo was submitted by Friends of BNSF member Andrea Capiola.
"I love taking long shots for both safety reasons and because it gives me the capability to capture great power shots. In this shot, BNSF 1406 (SD60M) powers north at max speed with an intermodal through Bow, Washington."