9 BNSF photos that will put a 'spring' in your step
The arrival of warmer months and nicer weather presents railfans with a budding opportunity to let their photography skills blossom. Too much? We didn't think so.
Here are some of our favorite entries from the #bnsfspringphoto social media contest we ran in May. Our winners were determined by their creativity, composition and the photographer's ability to capture their photo from a safe distance.
Even though these photos are bee-utiful it's important to remember to always photograph trains at a safe distance. Railroad tracks are private property and photographing subjects on them or crossing them to set up your perfect shot is trespassing, as well as dangerous. Have fun and be careful out there!
First Place

Richard Malo, Friends of BNSF Facebook Group
BNSF's 2012-built ES44C4 number 6985 and ten-year-old ES44DC 7262 are at the headend of a long string of loaded autoracks as they grind eastbound up the siding past a trackside patch of Texas Bluebonnets near Luling, Texas.
It's 10:29 on a splendid Tuesday morning, March 27, 2019, and the wildflower season is in full bloom in south central Texas.
Second Place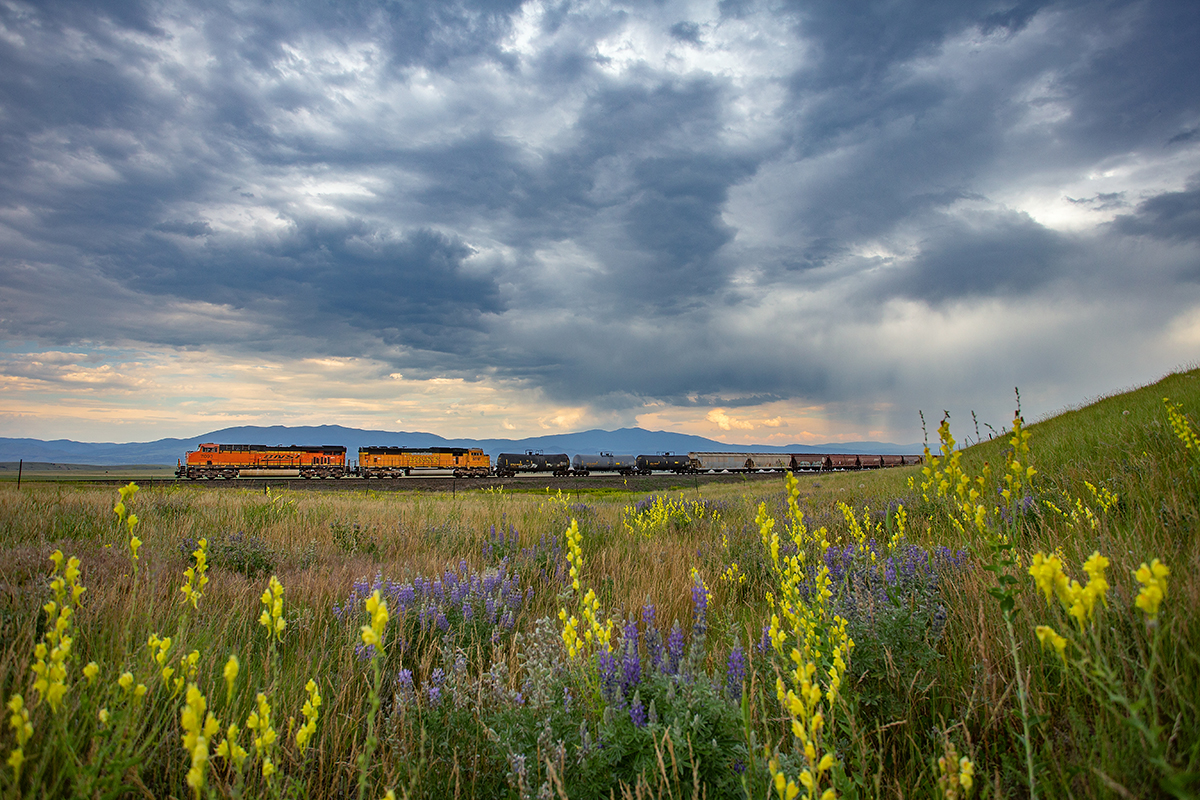 Tom Danneman, Instagram
A westbound BNSF manifest freight train crawls up Winston Hill near Winston, Montana, under a dramatic big sky. A wet late spring during a normally dry period meant green hills and abundant flowers, making a colorful foreground for the photo.
Third Place
Ted Curphey, Friends of BNSF Facebook Group
The eastbound Z-PTLCHC passes a field of Canola flowers in full bloom just outside of Bonners Ferry, Idaho, on BNSF's Kootenai River Subdivision. The bees were busy on this wonderful spring day, June 16, 2017.
Honorable Mentions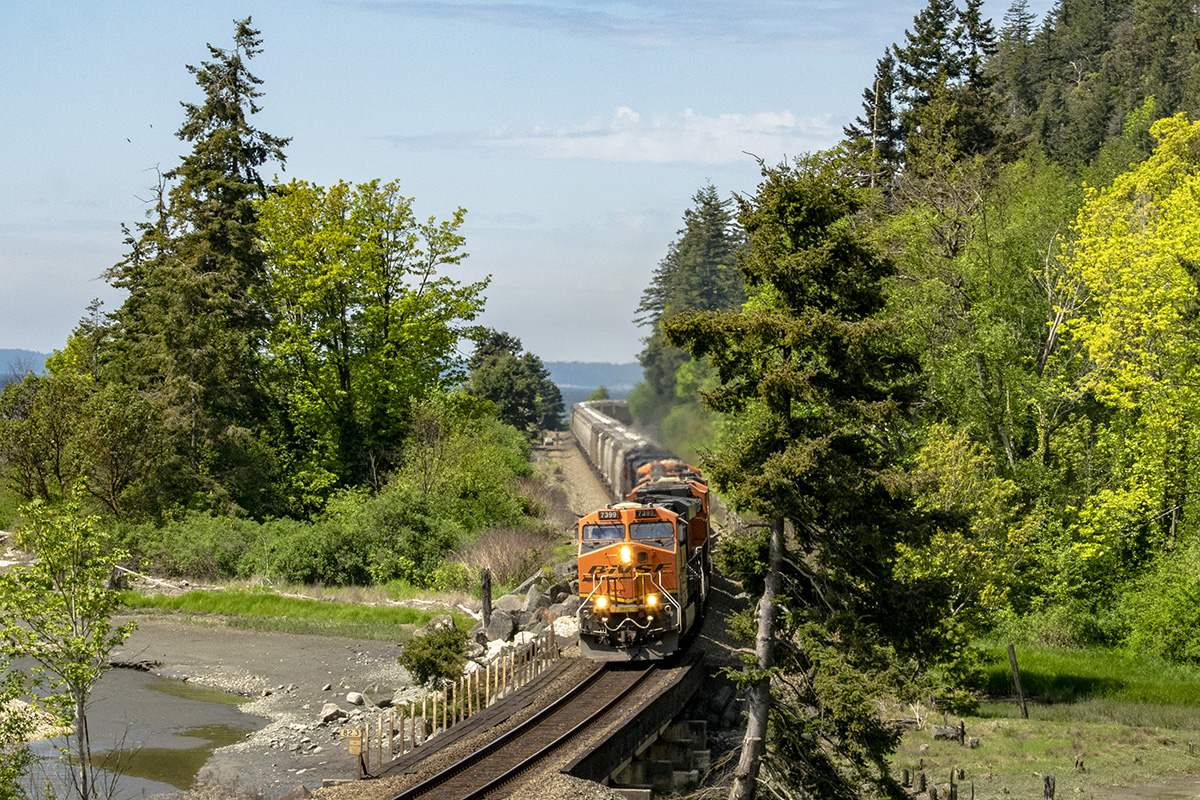 Andrea Capiola, Friends of BNSF Facebook Group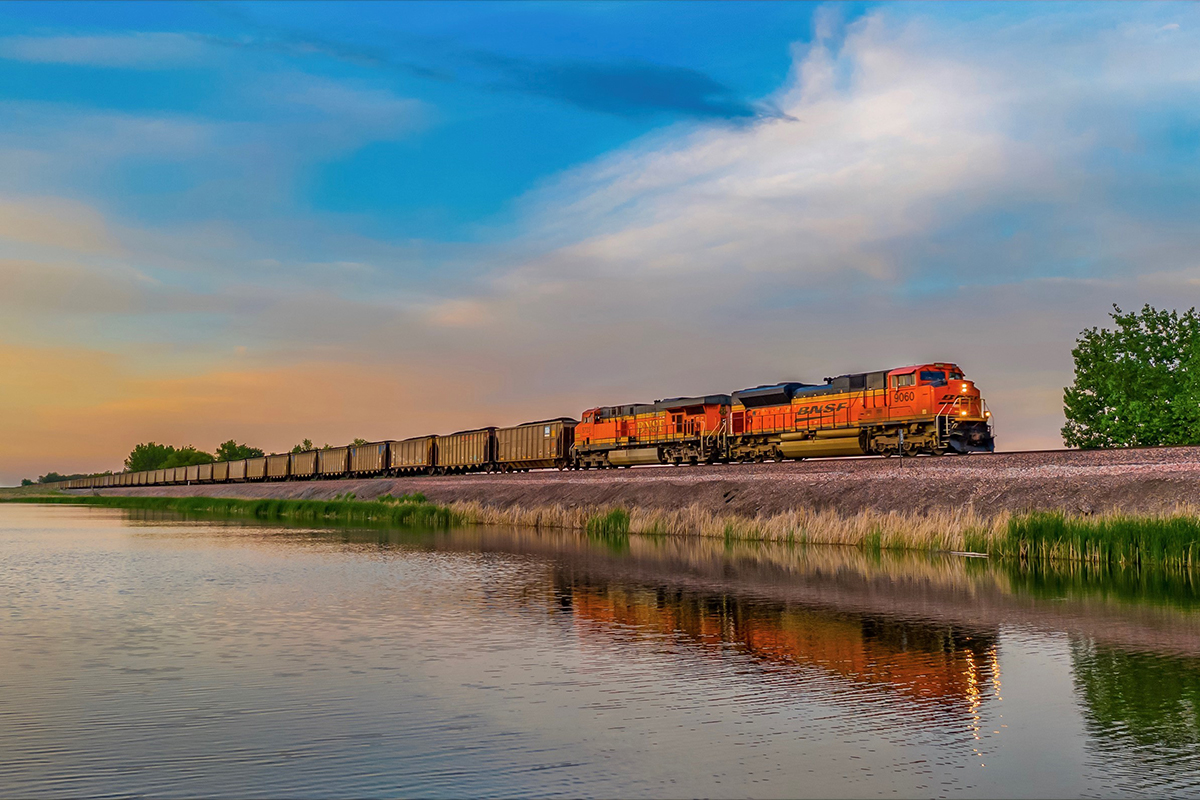 Eric Lindgren, Instagram
A collaboration with Timothy Tonge and Jeremy Frankovis, this photo of a BNSF loaded coal train rolls along the causeway over Barr Lake east of Denver, Colorado. The very soft glow of the last light of a nice spring day reflects off the water.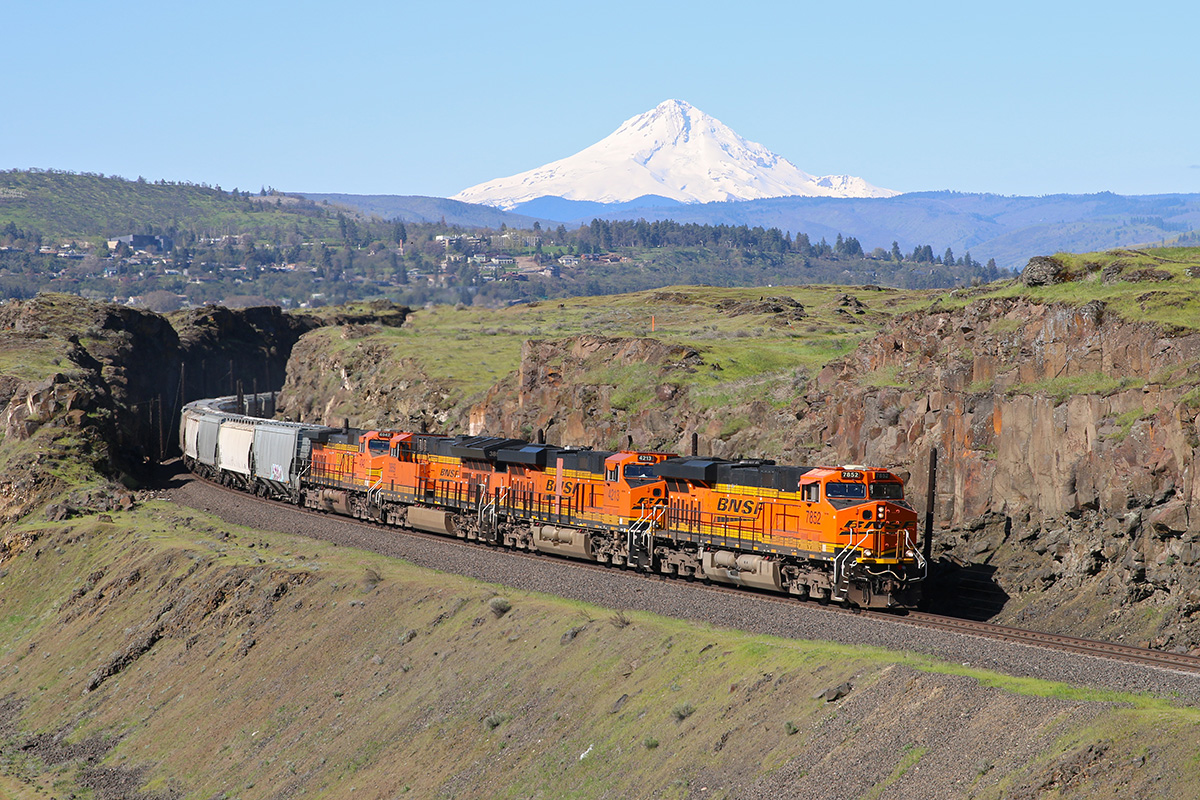 Bruce Schwierske, Friends of BNSF Facebook Group
This is a photo of an eastbound BNSF train of empty grain cars taken along the Columbia River on the Fallbridge Subdivision near Dallesport, Washington, on April 21, 2019. Snow-covered Mt. Hood, Oregon's tallest peak, is seen in the distance.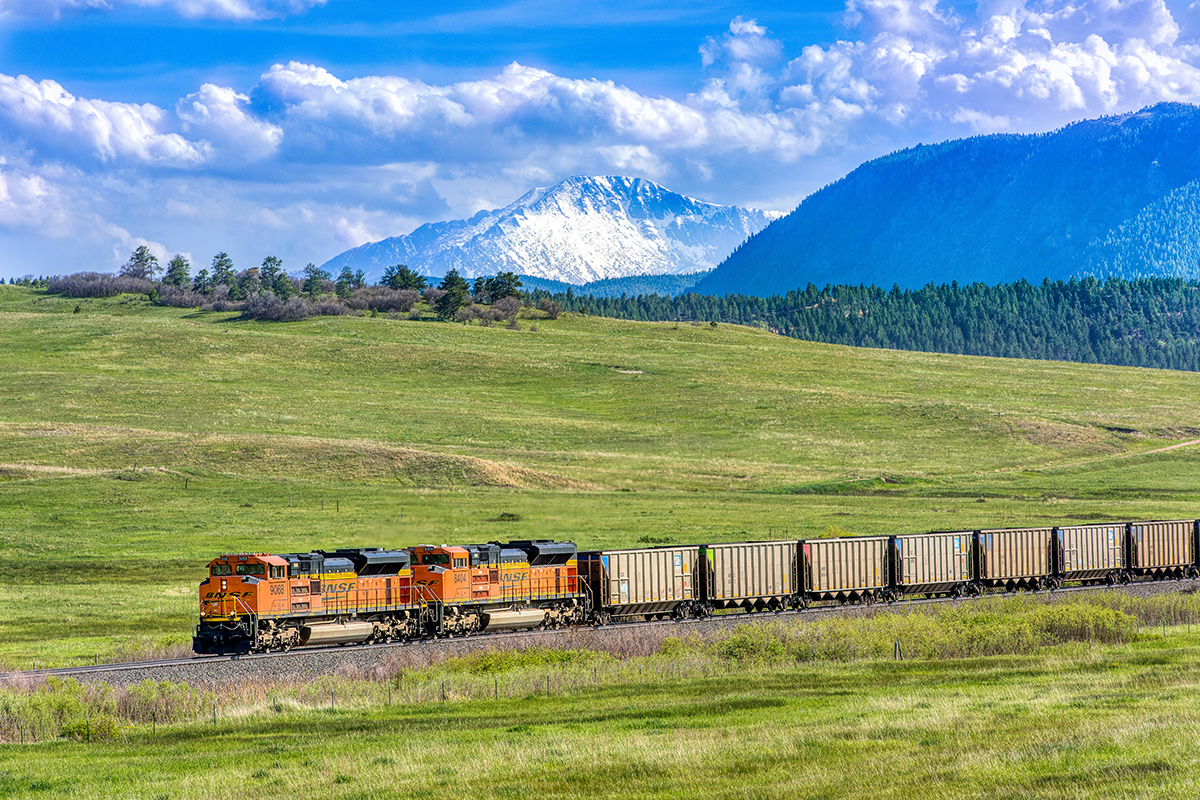 Timothy Tonge, Twitter
BNSF 9068 leads a northbound empty coal train just north of Palmer Lake, Colorado, on June 4, 2017. At an elevation of 7,000 feet here, spring typically arrives rather late, with the grasses of the meadow having only recently greened up in mid-May. Pikes Peak looms above the train with deep snow still covering the mountaintop.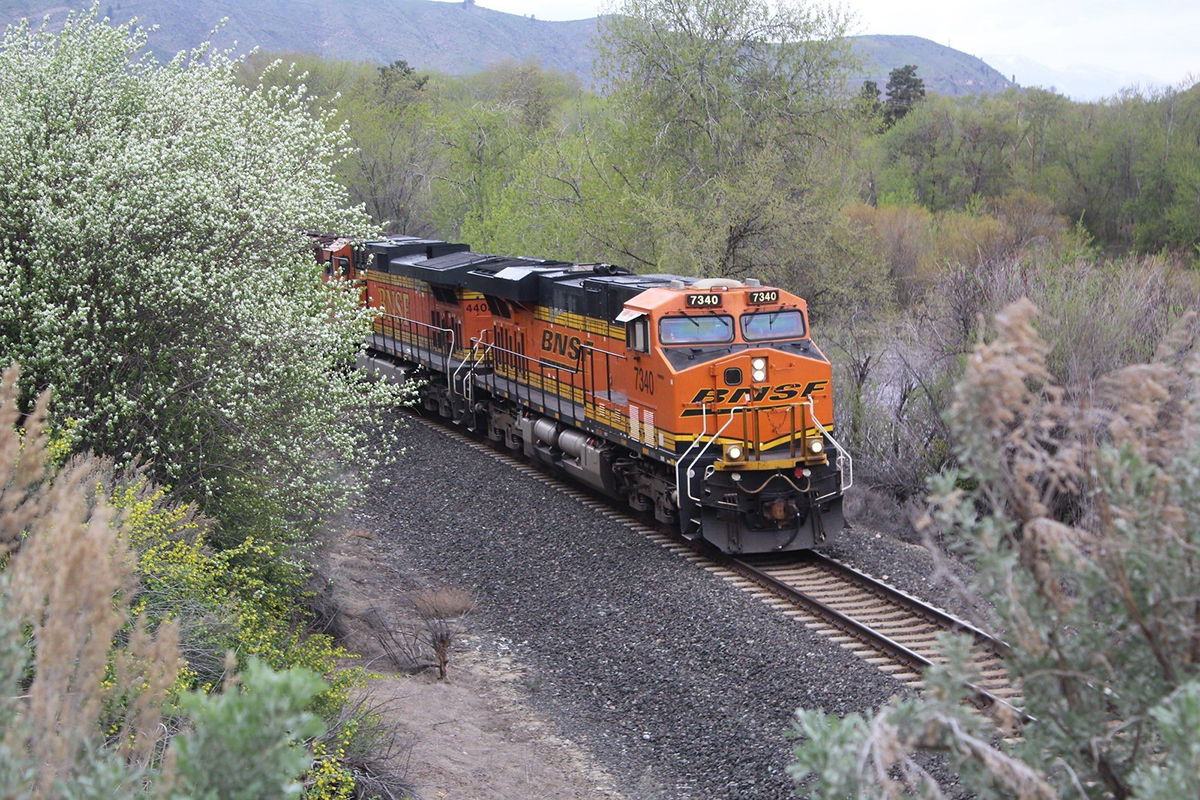 Matthew Schuh, Twitter
On the BNSF Scenic Subdivision along Sleepy Hollow Road, BNSF 7340 emerges from the newly-leaved trees and flowery bushes, as it heads eastbound toward Wenatchee, Washington.
Photo taken April 18, 2019.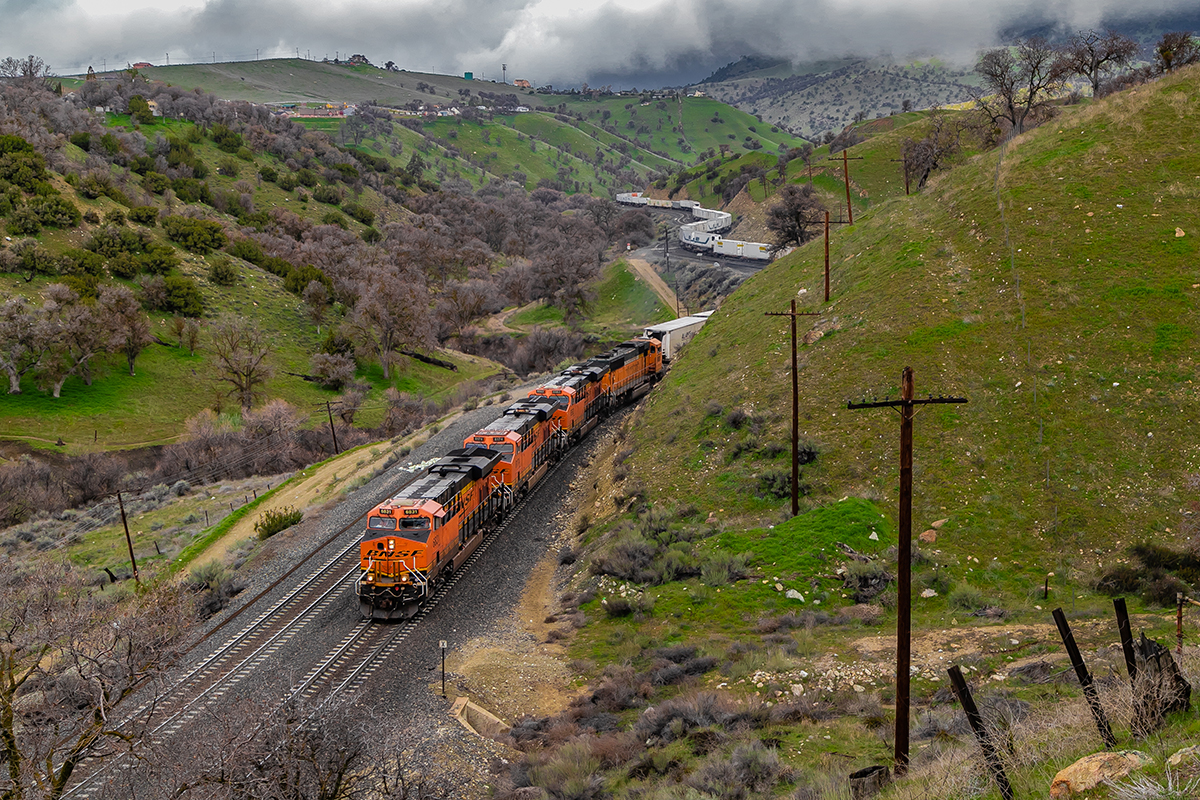 Jake Seigel, Instagram
A BNSF Z train from Stockton, California, to Willow Springs, Illinois, climbs uphill through the spring green community of Cable on Tehachapi Pass.
Did you know?
BNSF has a Facebook group for company supporters and fans called Friends of BNSF. Its members love to share their favorite photos of BNSF trains and historic scenes. In fact, four of the winning entries in this contest are by Friends members! You're invited to join the group and enjoy being part of a thriving community.