Protecting the community: BNSF employees serve as volunteer firefighters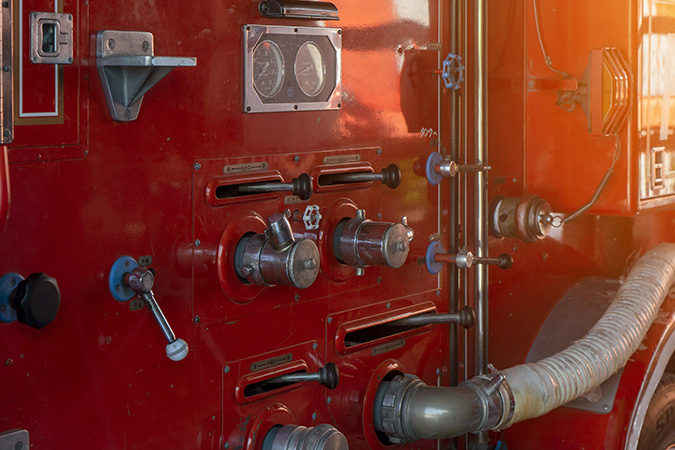 Real heroes don't always wear capes, but sometimes they wear helmets, and they always answer the call to duty.
That's certainly true for the many BNSF team members who are living our values by volunteering in their communities, including for local fire departments.
Many of the same attributes and characteristics that BNSF team members apply in their day-to-day jobs also apply as firefighters – including a consistent focus on safety.
Whether they're volunteering or working at BNSF, safety is the highest priority for them. In celebration of National Volunteer Month, let's meet some of these special people.
Riley Shepherd, signal maintainer
Riley Shepherd's grandfather was a firefighter, and he frequently went to the fire station as a child just to hang out and play on the trucks, pretending to be a firefighter. "I've always loved the idea of being able to help people," he said. "Growing up I looked to firefighters as real-life superheroes. They were the ones who showed up to solve the world's problems and save the day."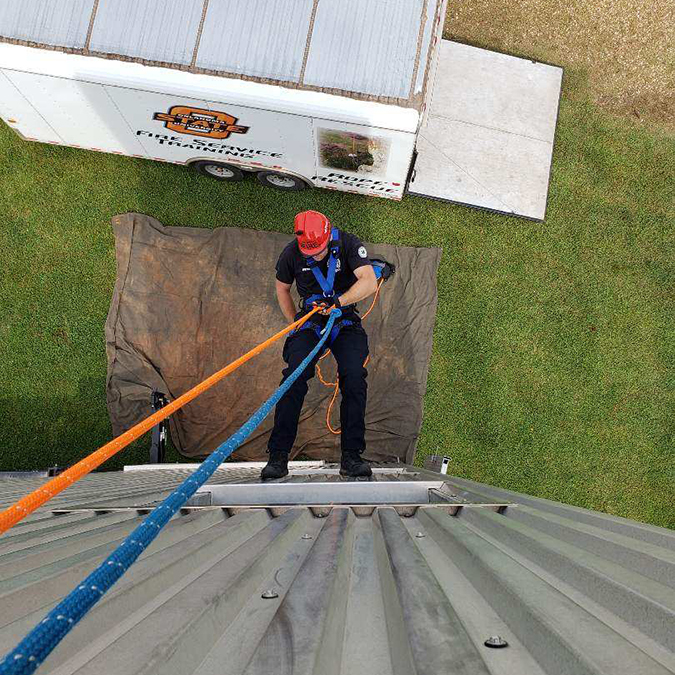 Today, Shepherd is the assistant fire chief for his volunteer fire department in Catoosa/Broken Arrow, Oklahoma, and is responsible for everything from budgets to training to maintaining relationships and planning with city and county officials. He also instructs for Oklahoma State University fire service training.
Volunteering for the fire department not only gives him a chance to make a difference in his community, but it helps him personally as well.
"The fire service, the people I have met and relationships I have built have made me who I am today," he said. "So many in the department are now my lifelong friends and most I even consider family. In fact, I met my wife there."
Don Lannigan, track inspector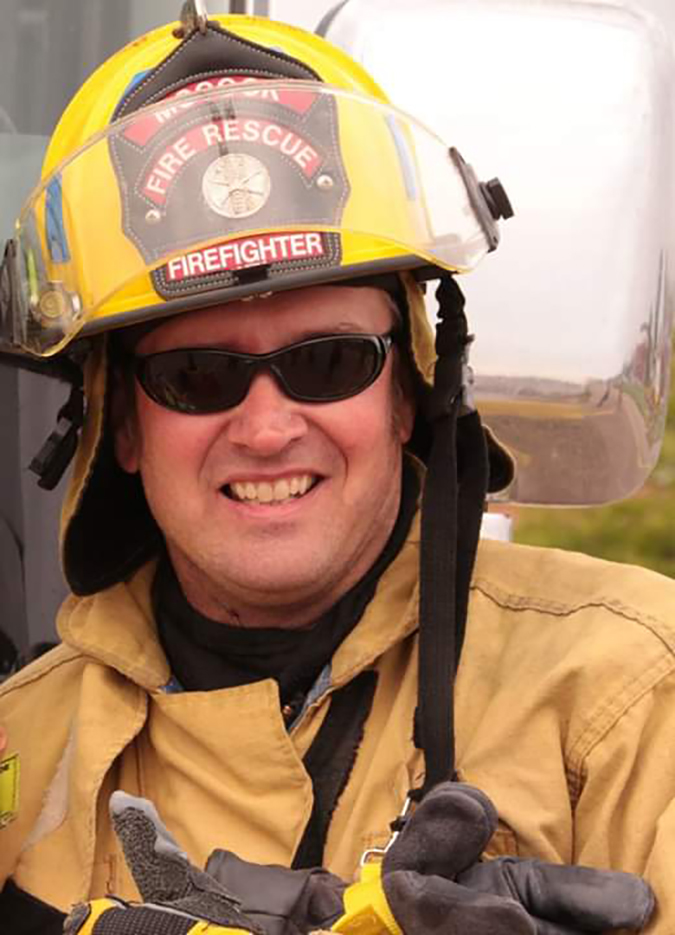 Based out of McCook, Nebraska, Don Lannigan started in the volunteer fire service in 1999 when a friend invited him to get involved. "I was a little unsure at first, but after the first meeting and understanding the mission, I was all in," he recalled. "It was the least I could do to help our small community."
Ongoing training is still part of the job. His department's training is hands-on and takes place one night a month, with occasional weekend training.
The department also participates in the Fire Department Instructors Conference (FDIC) every year. "Our department is somewhat unique. We have nine full-time positions and up to 30 volunteers. We send three full-time guys to FDIC and one or two volunteers," Lannigan explained. "FDIC brings firefighters from all over the world. I attended a few years ago and worked next to three firefighters from China. That was pretty cool."
He's also received EMT training, which is a college course. "I wanted to do this because I was young, healthy and capable of helping those who were unable to help themselves," he said. "It makes me feel good to know I can help them!"
Ryan Albright, switchman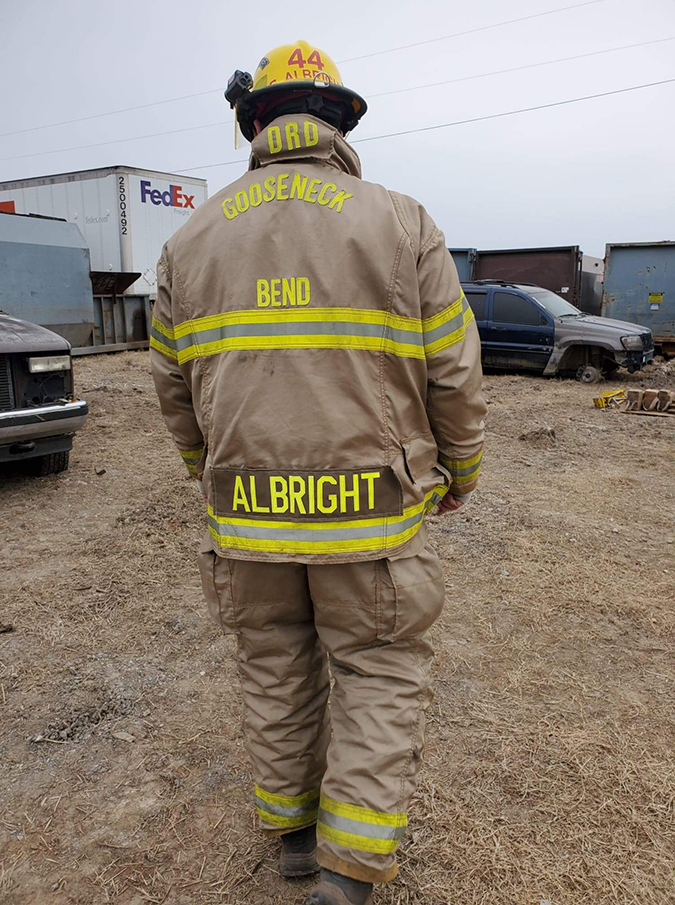 For Ryan Albright, volunteer firefighting is a family affair. His wife works with him as a volunteer and is also a Nationally Registered Emergency Medical Responder. Their son, Aiden, spends time at the station doing odd jobs, like shoveling snow, helping with hose testing, putting hoses back onto trucks and cleaning.
"My wife, son and I got into volunteering because we wanted to give back to our community and there was a huge lack of people, so we stepped in where we were needed," Ryan explained. "My wife and I probably go on a combined total of over 100 calls a year in our away-from-work time, which is a high percentage of calls for our area. The total runs last year were around 120."
Of his parents' volunteer work, Aiden said: "My mom and dad come home every time and tell me what they did. I can't wait to become a firefighter."
Brant Pierson, maintenance foreman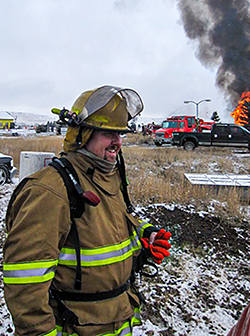 Now in his 14th year of volunteering, Brant Pierson also got his start with the fire service when a friend asked him to consider joining. "Most Montana volunteer fire departments struggle to stay staffed because it can be a lot of work and is very time consuming."
The need and a desire to volunteer got Pierson started. "My father has always helped where he could, and I have wanted to set the example for my kids the same way. Small towns would not function in a lot of different areas without volunteerism. It can be very rewarding no matter what you're doing," he said.
Besides the rewards of being a volunteer and interacting with his community, he's got a few good stories to tell, too.
"I once rescued a kid stuck IN the trunk of a tree. The tree was cut off and the top of the stump was rotten, and the kid fell inside of the tree about 15 feet up," he recalled. "Another time I got a cat out of a dashboard of a wrecked moving truck. The cat was so mad that it was trying to scratch us up every time we touched it."
James Woodward, trainmaster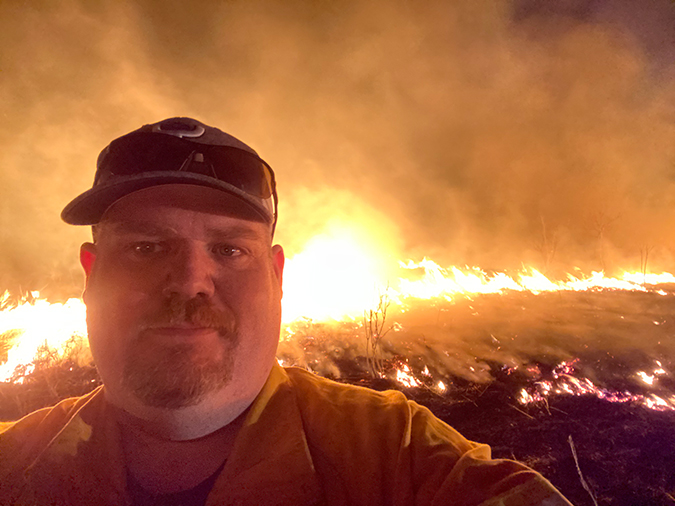 Like others who live in a small town, James Woodward learned that the only people available to help in a fire or medical emergency are volunteers. "Without the volunteers there would be no one to help," he said. "I wanted to be able to help people in my community when they needed it."
After work, he went to twice-weekly training for six months, learning about different types of fires and their warning signs, and how to respond to medical calls, fire calls and vehicle accidents. That was 15 years ago, and now he's a captain, training new people how to correctly respond as well as leading an incident command center as needed.
His wife and son, who also works for BNSF, have joined him as volunteers; she and James teach CPR to the community.
"My son grew up around the fire department and it was always something he wanted to be a part of," he said. "His first call, he was on a very large grassfire, and I was given the opportunity to work shoulder to shoulder with him fighting the fire. I could not have been prouder."