Bringing more than trains to your town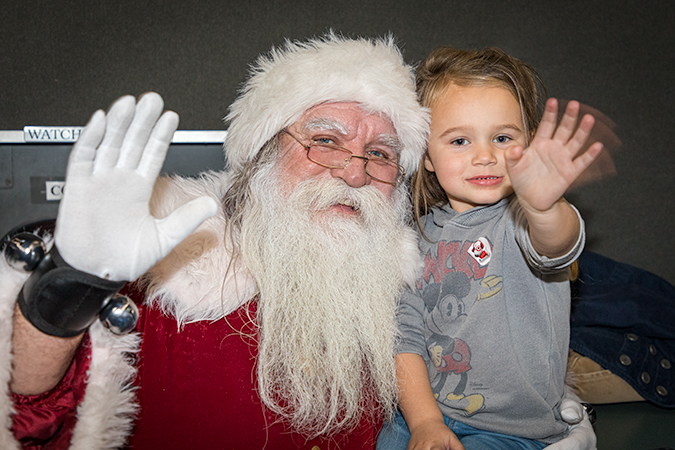 We are passionate about what we do at BNSF – and that extends beyond where our tracks end. Our employees are making a difference in the communities where we work and live, often with donations, other times with our hands – and sometimes with our trains, too. And there's no time like the holidays to show how much we care.
Ho-ho-ho hop aboard!
When it comes to kids and families, choo-choo trains and Christmas just go together. That's why we have a tradition of operating holiday trains in a variety of locations using our restored passenger cars.
Children of all ages light up when they climb aboard and see the car interiors adorned with holiday decorations. Santa Claus and Mrs. Claus and their Christmas elves are regulars, and no one can resist pressing their noses against the windows as the trains pull from the station for the local round trip, which for many is the first time to ride a train.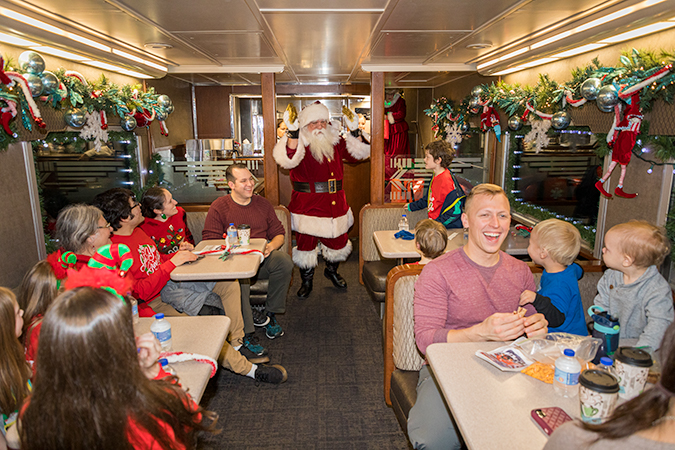 This year's Holiday Express again took members of the military and their families for train rides. This is the 12th season for the special, which over nine days visited seven cities, starting in Great Falls, Mont.; Rathdrum, Idaho; Spokane, Wash.; Pasco, Wash.; Bend, Ore.; Klamath Falls, Ore.; and ending in Richmond, Calif. About 350 riders were on each trip. In addition to the train rides, contributions up to $10,000 were donated to nonprofits that support military members and their families.
"When I heard about the opportunity to bring my family and kids on this, to meet Santa and take a train ride through central Oregon, I thought it was perfect – and, as my wife said, it's been magical."

- Army Veteran Brandon Anderchuk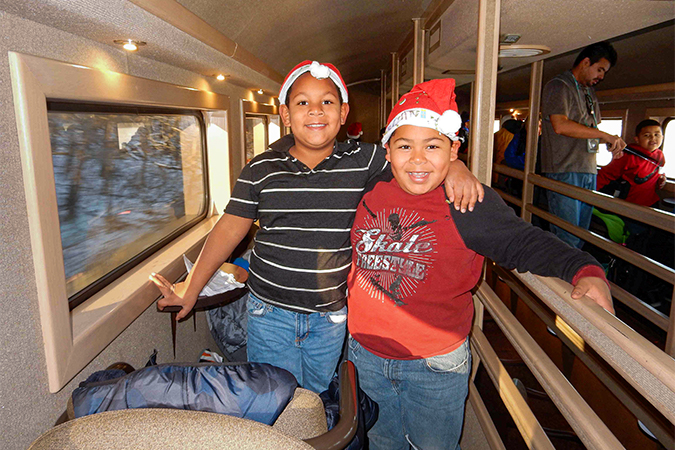 The BNSF Topeka Christmas Train gave 120 underprivileged children from a local elementary school a train ride that for many will be a once-in-a-lifetime experience. While on board, kids played games, enjoyed a meal, made crafts, received gifts, and, of course, got to visit with Santa. This tradition is organized by Topeka employees, who in addition to providing an unforgettable experience, give the children a snack bag of healthy items to augment the food they receive at home.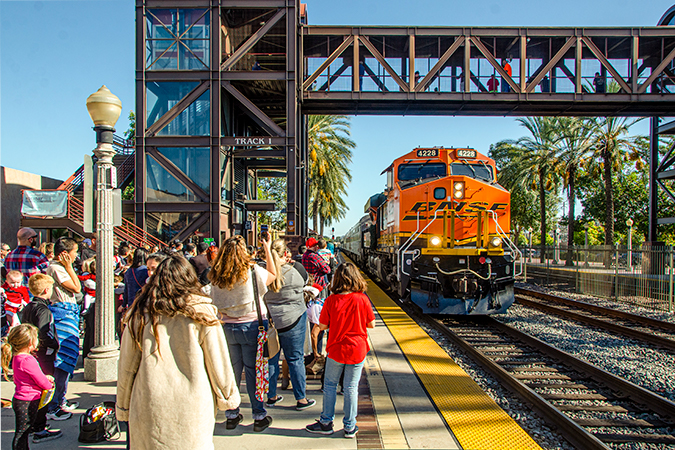 Over three days in Southern California – in San Bernardino, Fullerton and Barstow – the Santa Claus Express, in its 29th year of operation, took more than 1,400 deserving children and their families on train rides. Children were chosen for the free train rides by local charities, such as the United Way, Scottish Rite, Ronald McDonald House and Giving Children Hope, to name a few. Santa Claus and his BNSF employee-volunteers went along for the rides and distributed gifts. There were also magicians, clowns and an appearance by Alvin and the Chipmunks, among other on-board entertainment.
In the Twin Cities, a free Northstar Holiday Train, in collaboration with BNSF/Metro Transit, makes five stops before passengers disembark at the St. Paul Union Station, where guests can enjoy seasonal entertainment. It's a free holiday train experience that grows every year – and it happens Dec. 21.
Santa's Helpers
It's all about kids at Christmas and meeting their wants – toys, toys, toys – and needs, like clothes, shoes and diapers. Through established programs like the Salvation Army Angel Trees and the U.S. Marines' Toys for Tots, our people donate thousands of items, fulfilling kids' wishes throughout the communities we serve.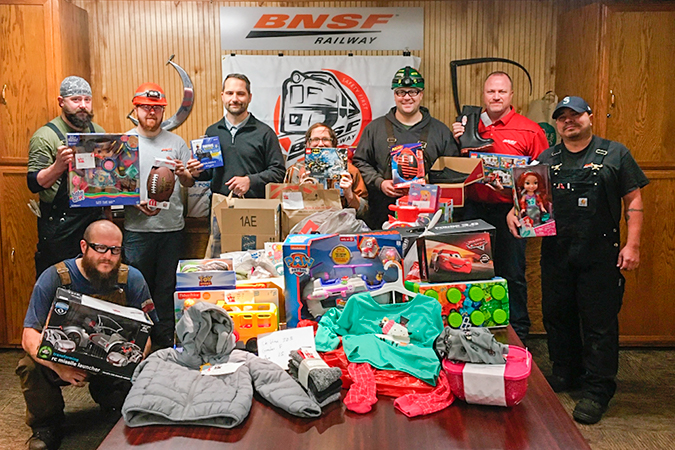 BNSF employees who maintain locomotives at the Seattle diesel shop choose a charity to support, and for the last two years, they've selected Make A Change Foundation, or MAC. The nonprofit partners with Hand in Hand in Snohomish County to brighten the holidays of children transitioning out of neglectful homes into the foster care system. Gifts and monetary donations are collected to provide kids' "want" items like a toy, book or game, and a "need" item, like a warm winter coat or a new pair of rain boots. This year, the shop's three shifts collected enough items to fulfill nearly 70 kids' wishes – with one employee adopting a family of a grandmother and three grandsons. The items are donated to the charities, which package and give them to the foster families.
"We had triple the need this year, and BNSF and some of our other partners helped get every wish filled. We depend on this type of giving to make an impact, providing hope and letting kids know someone really does care about them."

- Chris Mallahan, MAC Founder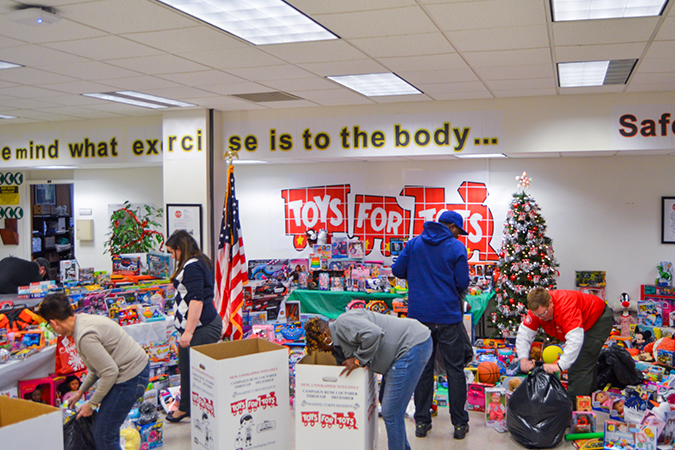 Chicago Diversity Council's Toys for Tots campaign engages employees from throughout our local facilities, where collection boxes are in position for weeks. This year, over 1,000 toys were collected, loaded onto a truck and delivered to the U.S. Marine Corps for distribution to those in need. Other BNSF locations where Toys for Tots drives were held include St. Paul, Minn., and Amarillo, Texas.
Of course, Salvation Army Angel Tree programs are a popular way for teams of employees to support local families, providing new clothing and toys for children. BNSF locations where angel-employees fulfilled wish lists included Fort Worth and Kansas City, Kan.
For the third year, Commerce, Calif., employees at the car and locomotive shop held a toy drive that brought loads of new, unwrapped toys that will be delivered to sick kids at Children's Hospital of Los Angeles.
Hearts and Hands
Giving comes in many forms, and one of the ways we give back during the holidays is by being that extra set of hands – and helping out with our hearts full.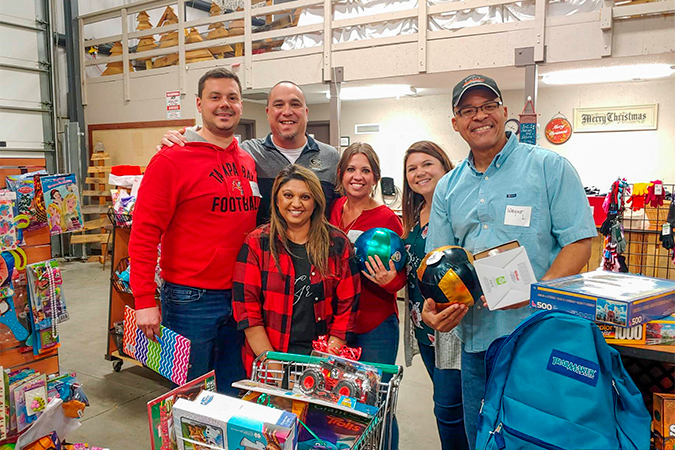 The Topeka Rescue Mission provides an opportunity for those in need to get a chance to shop like everyone else this time of year – but without the pain at the register. More than 400 families – about 2,000 people – got gifts, thanks to the mission's Christmas Shop, which yearlong collects brand new items donated by the community. About a dozen BNSF employees, representing the company's Topeka Diversity Council, volunteered at the shop and helped by assisting shoppers, making gift baskets, sorting and restocking.
In Texas, Mission Arlington has a similar community-based program where parents in need choose free gifts for their children at the Christmas Store. It started small over 33 years ago, but has grown to be a large endeavor (nearly 33,000 children received Christmas toys, bikes, trees, and an assortment of other gifts last year). Lots of volunteers help with set up, restocking and giving shoppers a hand for the two weeks the store is open. This year, members of BNSF's Industrial Products team spent a day at the mission helping parents to get the "just right gift."
At our headquarters, the Fort Worth Business Resource Groups' hosted a campus-wide, month-long drive for the Hearts for the Military, an organization started by a local mom who wanted to make sure that her son's needs were met while serving in Afghanistan. Pre-packaged or travel-size items, from band aids to dental floss to wool socks, were collected. Volunteers then sorted and packaged 10 large moving boxes full of items, which were shipped to deployed service members in care packages to thank them for their service.
"Hearts for the Military truly appreciates all the donations that were collected for our deployed military personnel. These items let those who serve know that they are appreciated, remembered and not alone."
- Jonathan Marshall, HFTM Board Member